In order to avoid roadblocks when transferring from Arizona Western College to a four-year college or university, it is important to understand what needs to be done, plan in advance, and use appropriate resources when taking action. Although admission requirements, enrollment procedures, and academic requirements vary from institution to institution, there are certain elements of the transfer process that are common among most colleges or universities.
Transfer students have an advantage of previous college experience that will help them make informed decisions on what they want from a transfer institution. However, sometimes assumptions based on a student's past experiences can be "misguiding." When in doubt, please ask! College and university personnel want you to succeed, but do not always know your specific needs unless you communicate.

We strive to help our Arizona Western College students attain baccalaureate degrees. With our Promise program, we help recent High School Graduates complete their AWC associate's degree by refunding out-of-pocket expense when meeting the eligibility requirements and transferring to an Arizona partner university. Learn about the details for this opportunity by visiting our Yuma and La Paz Promise page.
Learn about:
Eligibility requirements
How it works
Program exceptions
Frequently Asked Questions section
Contact information

Yuma Educational Success
Are you a 2021 or 2022 Yuma Union High School graduate and thinking about transferring to NAU? If so, you may be eligible for the YES Program Scholarship! The YES program offers a $1,500 annual scholarship, plus tutoring, mentoring, career exploration and support, and many other opportunities to enhance your educational journey. For more info on the YES Program please e-mail: yes2success@nau.edu or apply now: YES Program Application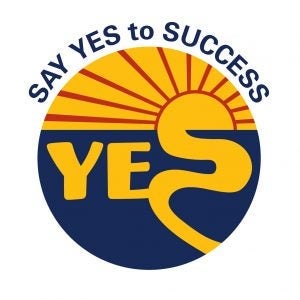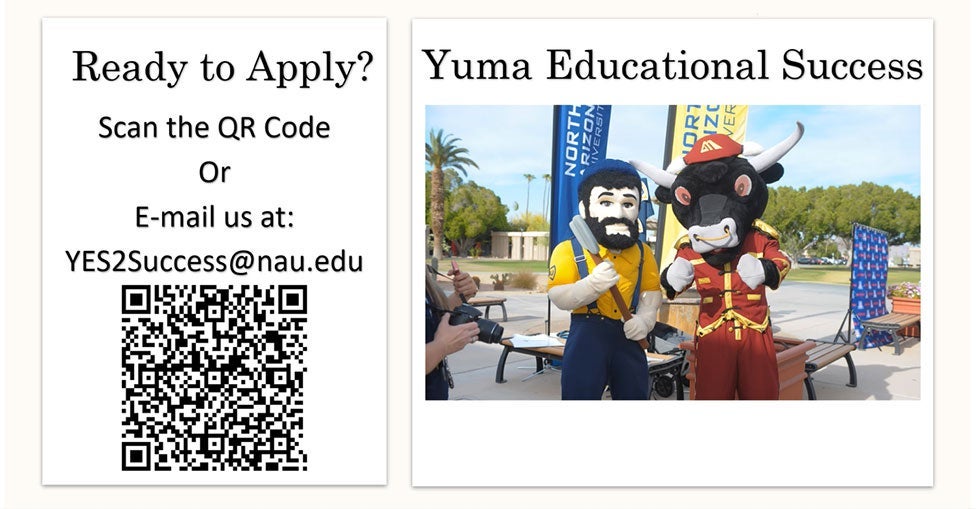 Criteria to be Considered a Transfer Student
Students may transfer a maximum of 64 credits to a baccalaureate program.
Universities accept college-level (not remedial) courses in which you have earned a grade of "C" or better from regionally accredited institutions
All transferable/applicable community college credits are accepted as lower-division credits and do not satisfy upper-division liberal studies.
Students must complete 24 credit hours from a college and have a GPA of 2.00 in order to be admitted as a transfer student to the university.
University advisors can only advise students if the student has applied for admissions and official transcripts have been received at the university.
Develop a transfer plan by following the information provided to you
While there is no limit to the total number of units of course work that may be transferred from an accredited community college to the in-state universities, no more than 64 of those units may be applied toward the requirements for a bachelor's degree. The choice of the 64 units is at the discretion of the student in consultation with an advisor.
Go to www.azwestern.edu/curriculum for more information on Arizona Western Colleges' articulation agreements. You may also learn about the pathways between AWC and all three in-state universities (ASU, NAU, UA) by going to each specific one for details. Pathways have been articulated to allow students to complete their 2yr Associate's degree at AWC and meet the required coursework for the first 2yrs at NAU. The AAS to BAS agreement provides students who are pursuing or have earned an Associate of Applied Science degree to transfer up to 75 credit hours for the specified courses at the university granting the BAS degree.
There is a difference between applicability and transferability of the credits you can transfer to a four-year institution. The applicability of credits is when credits go directly into your degree requirements. The transferability of credits means your classes can be transferred to any university, but it is not guaranteed that they will be applicable towards your degree.
Steps for a Smooth and Successful Transfer to any Institution
1
Decide
Whether you are undecided or you have identified the institution of your choice, take the steps to research your major. If you are undecided on your major, go to Career and Advisement Services. If you have decided on the institution of your choice, explore the transfer process.
2
Participate in an Admissions Application Workshop
Workshops offer information on specific institution's processes and discuss degree options. You may also attend an admission Application Workshop to start your transfer process. You will obtain information on the admission process, deadlines, scholarships, housing, and degree programs. View the "Events" under Transfer Services to attend.
3
Major Requirements
When selecting a major, research the transferable and applicable courses for your program. Get informed on the prerequisite or requirements for your degree. Use online resources such as AZTransfer.com to learn how your courses will transfer to the university or get informed of degree pathways and articulation agreements which facilitate the course credit transfer by outlining specific requirements. Start planning out the classes you need to take at AWC using the Student Planning tool in Self-Service.
4
Meet with an AWC Transfer Services and Program Coordinator
Meet with an AWC Transfer Services and Program Coordinator for guidance on your degree and/or to discuss the different pathways available to you. Learn about the services offered through Transfer Services- Click on the link to watch the video.
5
Apply
It is important to become aware of deadlines to avoid any setbacks on the transfer process. Most universities have an admission application fee. Consult online admissions timelines and checklists, and communicate with an admissions representative and academic advisor in your area of study if you need clarification.
6
Talk to your University Advisor
Contact the university/institution advisor to address further concerns. Be prepared with questions when you meet with an advisor, in order to get the most from your session.
Be proactive in your Arizona Western College degree completion and follow up on the steps and process to make a successful transfer.
If you still have questions, contact Transfer Services at 928-344-7638. We'll be happy to assist you!
As an additional resource, read the following Guide: Affordable Colleges Online's College Transfer Guide addresses some of the key issues faced by students looking to transfer, including admissions for transfer students, scholarships specific to those students, and highlights the differences between a community college transfer and a transfer between universities.