Create Your Academic Plan through Self-Service!
To better help you reach your academic and career goals, AWC encourages you to create a full Academic Plan.  By setting up an Academic Plan, you will determine what courses you need, establish a definite completion date, and help the college identify and plan for the courses you will need.
To get started on your Academic Plan, follow the steps below.  If you need assistance, please set up an appointment with an advisor or email Academic-Plan@azwestern.edu.
---
Sign in to Self-Service and go to Student Planning.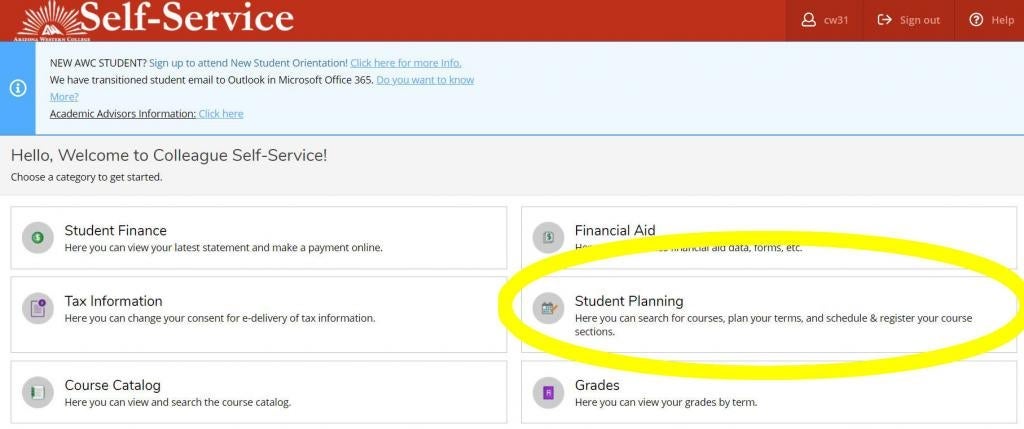 ---
Make sure that your program is listed correctly; if it's not, submit a Change of Major form to records@azwestern.edu or meet with an advisor. 
If you need assistance with selecting a program of study, visit the Choosing a Major page or schedule an appointment with a Career & Academic Advisor.

---
Select View Your Progress to review the requirements and plan courses for your degree or certificate (check out the Plan Your Courses tutorial to see how to plan courses)

---
To review your planned courses, go to Plan & Schedule

---
To have your plan reviewed by an Academic Advisor, go the Advising tab and click on Request Review (see video demo). Before submitting your plan for review, please compose and save a note for the advisor to better assist you with your academic plan.

---
Your plan is ready for review!  An advisor will review your plan and assist with the process.  Please make sure to monitor your AWC email account for important messages from your advisor.   

If you need help to create your Academic Plan, please set up an appointment with an advisor or email Academic-Plan@azwestern.edu