The easiest way to register for classes is online through your Self-Service account. After the online-only Priority Registration period, you can also register in person at any of our locations. Need help? Watch this Self-Service walkthrough video. Still have questions? Contact us! (928) 344-7550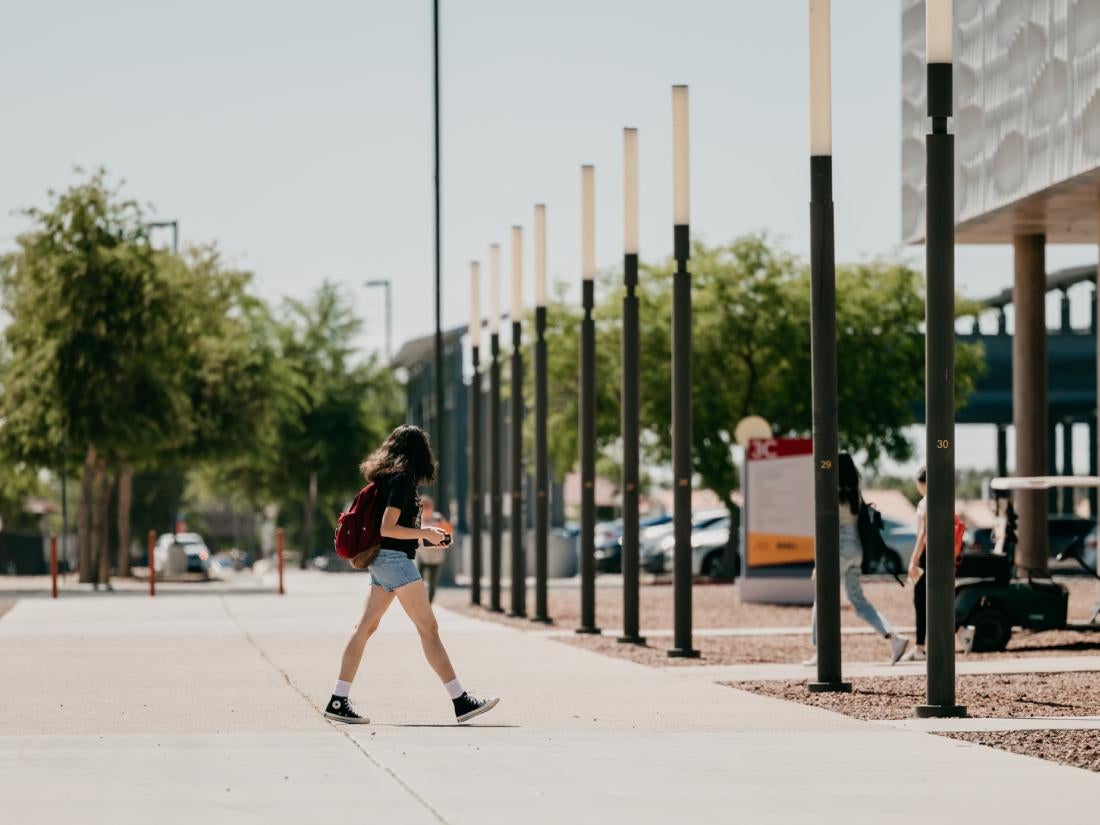 FALL/WINTER 2023 AND SPRING 2024 REGISTRATION
Fall registration begins begins April 10, 2023
Fall 16 week and first 8 week session begins August 21, 2023
Fall 12 week session begins September 18, 2023
Fall second 8 week session begins October 16, 2023

Winter registration begins October 2, 2023
Winter session begins December 18, 2023

Spring registration begins November 13, 2023
Spring 16 week and first 8 week session begins January 16, 2024
Spring 12 week session begins February 12, 2024
Spring second 8 week session begins March 11, 2024
*Some classes may have a different start date depending on the subject requirements
Have questions? Contact us at (928) 344-7550 or records@azwestern.edu.
Registration dates are posted on this webpage or the Academic Calendar.
For transfer credits from another institution you must have official transcripts and evaluation requests on file with Transfer Services.
Make sure you have taken care of any holds that would prevent you from registering on time. Log into your Student Planning account to find out if you have any registration holds.
If this is your first time registering for classes, you must provide proof of U.S. citizenship before registering. For more information regarding this state requirement (Proposition 300).
Check your Student Email inbox frequently so you don't miss out on important information regarding your registration (waitlist, cancellations, etc.).
Pay for your classes! You must pay for your classes, have a payment plan established, or have financial aid awarded to hold your space in classes. If financial aid has not been allocated, you should be prepared to cover your tuition expenses at the time of registration or by the appropriate deadline for the semester. See the Tuition and Fees Schedule for information on costs.
Know the deadline to Add and Drop classes. You are responsible for dropping any classes you do not intend to take. Classes dropped during the add/drop period will not appear on the student's grade report or transcript. Students withdrawing from class(es) after the add/drop period must follow withdrawal procedures. Find out more information on Adding/Dropping/Withdrawing from classes.
Register in person at the following locations:
Yuma Campus
College Community Center 3C Building
2020 S. Avenue 8E
Yuma, AZ 85365
928.344.7641
Wellton Learning Center
28851 County 12th Street
Wellton, AZ 85356
928.785.4175
Parker Learning Center
1109 Geronimo
Parker, AZ 85377
928.669.2214
Alicia Valdez San Luis Learning Center
1345 N. 8th St
San Luis, AZ 85349
928.314.9449
Somerton Center
1011 N. Somerton Avenue
P.O. Box 540
Somerton, AZ 85350
928.314.9464
Quartzsite Learning Center
695 N. Kofa Ave at Quail
Quartzsite, Arizona 85346
928.927.8299
Student Mail Account
Check your Student Email email account frequently. AWC will send important communication to your student email.
Financial Aid
Payment Notice
If you don't qualify for financial aid, or your financial aid has not yet been awarded, you'll need to pay for your classes or set up a payment plan immediately. Payment plans only need a 10% down payment.
FAFSA Applications are available: http://fafsa.ed.gov/
After you submit your FAFSA, you must follow up with the Financial Aid Office. Most students need to provide additional paperwork before financial aid is approved. Log in to Self-Service to find out what documents you need to submit to AWC or to find out about your financial aid award. Financial aid will only pay for courses that pertain to your declared major. Change of major is only allowed during add/drop period of your first class of the semester. Not all certificates are Title IV eligible (financial aid and student loans).
You can plan your coursework for future semesters NOW in Student Planning. Add classes to your plan now, and when your registration date approaches, all you have to do is push the "Register" button.
Paying for Classes
Be prepared to pay for your classes. If you don't qualify for financial aid, or your financial aid has not yet been awarded, you'll need to pay for your classes or set up a payment plan immediately. Payment plans only need a 10% down payment.
New students
After you've taken the Self-Guided Placement, sign up for New Student Orientation.
Continuing Students
Make an appointment to see your advisor.
Learn to Navigate Student Planning
Students will need to use Student Planning to register online. Learn how to plan courses and register using Student Planning with our video tutorials.

Have questions? Contact us! (928) 344-7550
Frequently asked questions about paying for college
Am I eligible for Tuition Assistance?
Active Duty military personnel may be eligible for tuition assistance programs. Please contact your branch Education Officer for additional information on available programs. The college requires that an official authorized Tuition Assistance Voucher is submitted on or before the day of registration. Failure to submit an approved voucher or full payment may result in de-registration of classes. Any overpayment made by the student will be refunded to the student upon receipt of the approved Tuition Assistance Voucher.
How do I set up a Payment Plan?
Once you've logged in to Self-Service, select the "Student Finance" link, which will display the account activity. Then select on the "Payment Plan" menu link under Student Finance breadcrumb list at the top of the page. Next, choose the button titled "Proceed to Processor" which will open in a new browser window or tab. Payment plans made through the AWC Payment Plan allow the college to make adjustments (i.e., increases and decreases) to your agreement and payment amounts according to NACHA guidelines. Students will be responsible for any additional costs incurred after the initial payment plan is completed.
What are the acceptable methods of payment?
Cashiers accept cash, personal check or money order, Visa, MasterCard or Discover. Payments may be made online through Self-Service using Visa, MasterCard or Discover