COVID 19 Information and latest updates
The teams at Arizona Western College are dedicated to providing a healthy and safe environment. Read More.
Image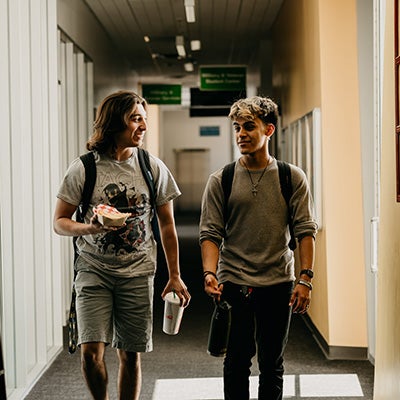 Health and Wellness
Health and wellness services coordinates and facilitates programming for health and wellness education and awareness campaigns for high risk behaviors, healthy behaviors and title IX violence intervention and prevention themes for all students throughout the district. This includes Yuma, Somerton, San Luis, and Parker. Programming includes campus activities and marketing surrounding our monthly themes to ensure student learning outcomes that will have a positive impact on students and lead to happy and successful lives.
Upcoming Student Activities & Events
Health & Wellness Appointments
Health & Wellness Visit
AWC is committed to the health and safety of all members of our community. Request an appointment below to meet or speak with one our staff members. We're here to help all AWC students.
You can also request an appointment by email at Health.Wellness@azwestern.edu or phone at (928) 344-7602.
Health & Wellness Nook
The Health & Wellness Nook is a place for the college community to use for various mental wellness/good health activities requiring a semi-private, relaxed, and calm area. It may be used to participate in virtual therapy, psychiatric, on-demand or recorded self-care appointments through the college's FREE telehealth service (Timely Care). It may further be used for experimentation with stress relieving essential oils, coloring books, fidget toys (provided), or other activities. Please use the link to reserve time to use the nook:
BetterMynd / Teletherapy
BetterMynd is teletherapy for students. Arizona Western College students get 3 FREE 50-minute teletherapy sessions. Some common reasons for seeking mental health support include:
Feeling consistently low or sad
Persistent anxiety
Handling a breakup
Loss of a loved one
Past or current experiences of trauma or abuse
Academic pressures and performance
Housing or roommate tension
Challenges with family members or at home
Experiencing discrimination related to your race, weight, religion, immigration status, gender, sexual orientation, or disability (not comprehensive)
Services
The office of Health and wellness exists to support students and their success. We are here to help students achieve their academic goals by encouraging a balance of health and well-being. We do our best to ensure the college experience is positive, rewarding and successful. Students have access to a safe place to talk and get help dealing with anything as it relates to their personal health and/or wellness; anything from medical complications to stress or life issues and struggles. Students can receive stress and time management tips as well as practice self-care and compassion. Students can also receive assistance connecting to campus and community members to meet their needs as well as receive resources and referrals. We also have a CARE report or "IR" incident report which allows us to have a transparent and universal referral process available to the campus community for students of concern and can remain anonymous.
Monthly Themes
Each month throughout the academic year hosts one health or risk behavior theme and one Title IX theme. Be on the lookout for e-newsletters, trainings, activities, and events related to these themes and more.
January – Body Image & Stalking
February –Nutrition/Exercise/Heart Health & Healthy Relationships
March – Smoking Cessation/Self-harm & Discrimination
April – Drug and Alcohol Awareness & Sexual Assault
May – Mental Health & Harassment
June/July – Sun Safety
August – Welcoming Intro and Resources & Consent
September – Suicide Awareness and Prevention & Healthy Relationships
October – Cancer Awareness & Domestic Violence
November – Healthy and Risk behaviors
(sleep, stress management, hygiene, seatbelt use, texting and driving, DUI & Bullying)
December – Health Insurance & Sexual Health
Our Staff
Our staff is committed to:
Promoting mental health awareness
Educating in and out of the classroom
Encouraging positive life changes
Promoting healthy relationships
Advocating for the human experience
Supporting a healthy and well-balanced environment on campus
Providing resources to assist each student with success
For more information, please contact us.
Student Health & Wellness Coordinator
(928) 317-6067
Student Counseling Professional
(928) 317-6243
Student Health Advocates Club
Student Health advocates club is a student volunteer health and wellness education club at AWC. Students are trained on various topics to help educate their peers and campus community as well as raise awareness about risk behaviors, health issues, and concerns through educational workshops, events and campaigns. SHA primarily focuses on behavioral health, violence intervention and prevention, and healthy lifestyle choices/behaviors to help create a more inclusive and equitable campus. This club provides students with an opportunity to get educated, get involved, meet people, be an advocate, inform others, build their resume, earn scholarships, strengthen skill-set, and contribute to a better campus, etc.
Call us at (928) 344-7602 or email us.
AWC is committed to the health and safety of all members of our community. If you know of a distressed student who may need support, please help us connect with them by submitting a report.
Report Concern
This form is monitored during regular business hours (Monday - Friday, 8:00am - 6:00pm) and may not be immediately reviewed. Call 911 or contact AWC Campus Police (928) 344-5555 or (928) 314-9500 IMMEDIATELY if there is a risk of harm to self or others. A 24/7 crisis response team (trained mental health professionals) is also available at 1-866-495-6735.