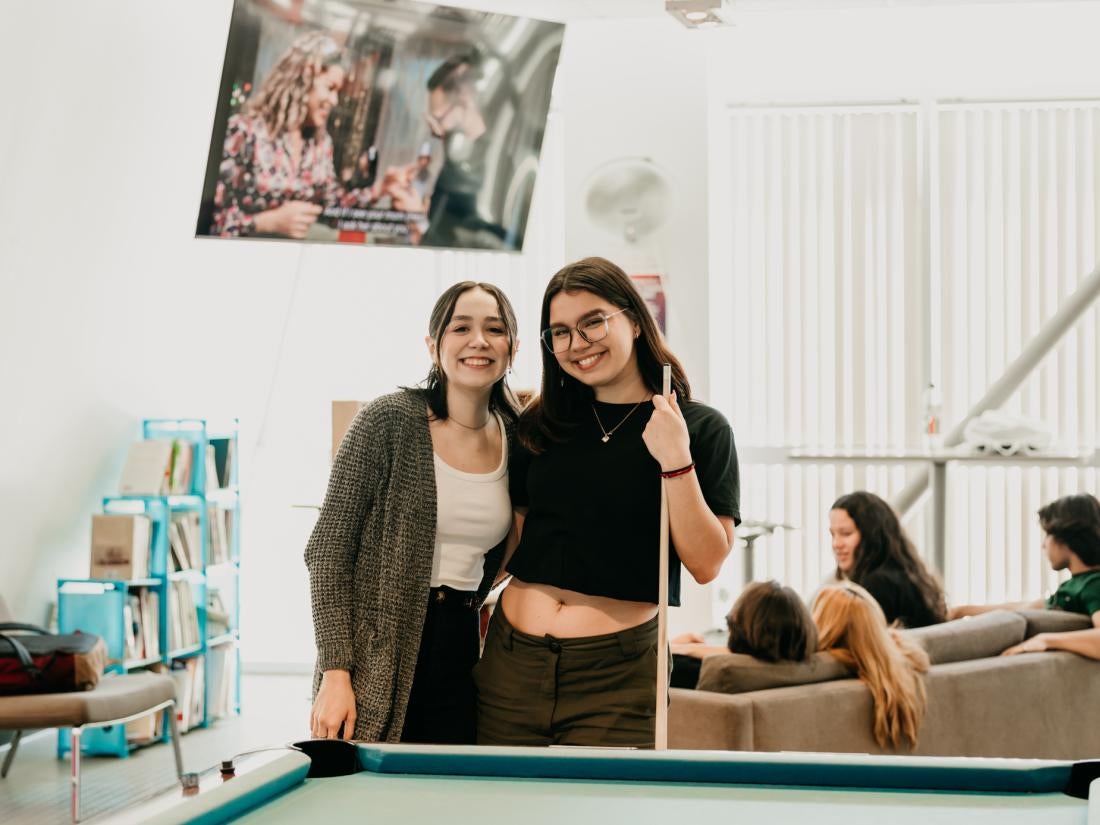 Arizona Western Clubs and Organizations represent a wide variety of student aptitudes and interests. The activities, events, and programs sponsored by the clubs and organizations complement the AWC academic programs by providing opportunities for recreation, fellowship, and practical training for intelligent leadership and superlative citizenship.
Clubs are initiated by student interest and therefore change frequently. A club is formed when a student voices the need or want for a particular club to the Coordinator of Student Leadership and Activities. An AWC club advisor is then sought. After club paperwork is submitted to the office of Student Activities the club can begin activity immediately.
Clubs
---
Email the club advisor to join the club or for more information.
Administration of Criminal Justice Studies Student

The purpose of this organization shall be to further student interest in Criminal Justice through academic, social and professional programs and activities.

---

American Sign Language Deaf and Deaf Allies (ASL DADA)

The main purpose of this club shall be to give students and members of the deaf community the opportunity to practice ASL skills and/or interaction in a fun and relaxed manner.

---

Arizona Western Business Group

The purpose of AWBG shall be to foster leadership development through the coordination of educational, business, and community projects.

---

Arizona Western College Book Club

Our purpose is to read all genres of books, to provide a robust and supportive environment for those passionate in reading books and literature. 

---

Art Curiosity and Secrets

Promote awareness of the arts within the college environment. Facilitate member interaction with local and global arts community. Support and facilitate visiting artists and or other arts related events. Raise awareness of career and educational opportunities in the arts.

---

Asian Club

Aid the growth and development of Arizona Western College (AWC) students through culturally, socially, and academically focused programming about the Asian and Asian American community.

---

Association of Aspiring Medical Providers

To support students interested in a career as a Physician Assistant or as a Physician. Cultivating collaborative inter-professionalism between Pre-PA and Pre-Med students.

---

Automotive Club

The mission of the automotive club is to promote student interaction with the latest technology in the automotive industry, allowing students to use automotive experience to research, design, fabricate(Weld, tube bending, autobody, etc…), create, build, perform restorations, and performed modifications to automotive vehicles and off-road vehicles from scratch.  The club will also conduct engine reliability test under the proper supervision on and off the streets and highways and promote safe and sportsmanlike driving practices on the streets and highways. The objects of the Club shall be the promotion of motor sport, and such other branches of the sport as may be decided upon, and the promotion of common interest.  This club will give students the ability and resources to provide a supportive environment for interested automotive students to share their creativity, knowledge and passion for automotive while attending Arizona Western Community College. 

---

AWC Artificial Intelligence Club

The purpose of the Artificial Intelligence Club shall be to foster Artificial Intelligence discussion and projects that enhance the learning knowledge base of the clubs members.

---

AWC Artist Association

To create opportunities for emerging artists within AWC and the community, as well as raise awareness of the Visual Arts.

---

AWC Bike Club

Encourage bicycle use on and off campus in the Yuma community by organizing rides, offering training sessions, and lobbying local agencies to create a safer cycling climate in the greater Yuma area.

---

AWC Polynesian Club

We promote cultural awareness of Hawai'i, other Polynesian Islands, and their people. Spread the "Aloha Spirit" across the AWC campus. Serve as a support group for incoming students from Hawai'i and other Polynesian Islands. Provide a social haven for any AWC student seeking friends. Provide spiritual as well as cultural support for those students coming from the Pacific Islands.

---

AWC Press Club

Provide activity for students interested in media arts.

---

AWC Skills USA Student Chapters

Skills USA Arizona empowers its members to become world-class workers, leaders and responsible American citizens. Skills USA Arizona improves the quality of America's skilled work force through a structured program of citizenship, leadership, employability, technical and professional skills training. Skills USA Arizona enhances the lives and careers of students, instructors and industry representatives as they strive to be champions at work.

---

AWC Welton Manufacturing Training Center Team

To provide the interchange of related technical information, ideas, and manufacturing technology related subjects.

---

AWC Youth Club

Assist students in becoming lifetime learners of music, acquiring choral vocal music skills. This may include ordering uniforms, performing on and off campus, community service projects, and 100% tuition grants awarded based on demonstrated individual need.

Membership Requirements: Student must be registered in AWC Youth Choir for the current academic semester.

---

BEYCLUB

To help bring team work and get students to enjoy working together, and learn the health way to win and lose in this world today. Many students believe winning is everything but if I could bring a club that shows friendship, working together and the art of losing without being angry is very important. 

---

CAMP Student Association (CAMPSA)

The purpose of CAMPSA shall be to foster leadership development through the coordination of educational, cultural, and community projects. CAMPSA will work toward its goal by assisting in community service activities, events or projects. Programming for student leadership development and embracing diversity.

---

Campus Crusade for Christ (CRU)

Provide a forum for study and discussion of ideas relevant to the Christian Faith.

Advisors:

 

---

Chess Club

The purpose of the Chess Club is to give students and staff the opportunity to play chess and also to learn how to play chess. 

---

Christian Challenge

Connect fellow Christians and other Arizona Western College students to fellowship with each other and those around us, through service projects in and around Yuma, Arizona.

---

Christian Fellowship Club

The purpose of this organization shall be to glorify God by nurturing students in their Christian faith.

---

Club SOTE

Provide TRIO KEYS Program students participants with experiences which promote social, interaction, leadership, self-confidence, and self-advocacy.

---

Community Health Worker Club

Support the mission of program activities, support activities and functions of interest to AWC Community Health Worker students, and to encourage self-development and support fellowship between students and local community of professional Community Health Workers.

---

Cryptocurrency Club

To expose and encourage people to learn about various types of cryptocurrency and how to use them to their advantage

---

Dessert Chefs

The purpose of the club is to use the acquired skills with in the community and on campus for fundraising purpose. The goal is to strength these skills, to learn about food service and customer service. The money that the students earn is set aside and used for a culinary inspired trip.

---

Esports Club

Welcome to the AWC Esports Club! We welcome players and esport enthusiasts at all levels

---

French Club

Create a community where people can practice and see French culture and language.

---

Full Spectrum - GSA

Creating a BRIDGE between lesbian, gay, bisexual, transgender, and straight people of Arizona Western College (AWC), regardless of their sexual orientation, gender identity, or gender expression, providing a constructive FORUM where members can express themselves without discrimination, working toward the greater understanding of all people in our community.

---

Future Leaders of La Paz

Enhance the college experience for students attending AWC in La Paz County and the surrounding areas, to create programs and activities that will benefit the school and its student body, to develop civic engagement and leadership skills, to provide social activities and events for the membership.

---

Geology Club

---

I.C.E (International Cultural Exchange)

The purpose of I.C.E is to support cultural exchange, international education and global understanding.

---

Indigenous Student Association

Purpose of Proposed Club: To promote cultural awareness, growth and development of Arizona Western College students through socially and academically focused programming about the Native American culture and community. Additionally, the club will serve as a support system for incoming Native American Students.

Membership Requirements: Open to all AWC students

---

Informatics Club

The Club promotes a better understanding of computing and information technology through discussions, presentations and workshops. They serve as an information network for anyone interested in the broad spectrum of technology. Speakers will be invited from the industry in the Yuma County to provide perspectives on the versatility of Computer Science and Information Systems/Technology. The club gives students opportunities to experiment in a network and server mock room and manipulate Raspberry Pi devices.

---

Journey of Yourself (JOY) Formerly Somerton and San Luis Rotaract Club

The purpose of AWC Somerton & San Luis Rotaract shall be to provide cultural and leadership opportunities for AWC students through the coordination of educational and community projects.

---

M.E.Ch.A de Arizona Western College

MEChA is open to anyone who wants to get ahead in their studies and succeed during their university education. M.E.Ch.A is a student club that promotes university education, community participation, Spanish-speaking culture and Hispanic history in the United States.

---

Matador Ambassadors

Matador Ambassadors are an extension of the Admissions and Outreach team assisting with campus tours, participating in recruitment events, community events, and presenting to high school classrooms. Ambassadors must maintain a 2.0 GPA, be enrolled in at least 12 credits to be eligible for a scholarship

---

Matador Metal Works

(Welding Club) The purpose of this club shall be to improve America's skilled work force, to enhance the lives and careers of students, instructors, and industry representatives as they strive to be champions at work. 

---

Musical Matadors

Support the AWC Chamber Singers and the AWC Music Program through performances, community outreach and fund raising.

---

Musical Matadors

The purpose of the Musical Matadors Club is to offer resources and information to students that have an interest in music; to enrich the lives of students, faculty, staff and the community at large by organizing events that showcase the talents of AWC Chamber Singers, AWC music students, and club members. 

---

Our Revolution

Provide students the chance to engage politically in a positive environment and tone, with an emphasis on progressive candidates and policies.

---

Philosophical Society

We strive to promote open inquiry, fruitful discussion, and civil debate on issues relevant to philosophy politics, values, and religion.

---

Photography Club

The mission of the Photography Club is to provide a supportive environment for interested photography students to share their creativity, knowledge and passion for photography while attending Arizona Western Community College.  The club will hold regular meetings and discussions and organize events such as; photo-walks, field trips, museum and gallery visits, and lectures and workshops by visiting artists. Members will also explore the possible opportunities for photography projects in collaboration with other campus departments, organize peer to peer portfolio reviews and explore the possibilities of exhibitions on and off campus.

---

Presidential Leadership Society

We bring the presidents of clubs together and work on goals as a group. The club main objective is to raise money for the annual fundraiser Relay for Life.

---

Radiologic Technology Club

We are a group of enthusiastic individuals who are working together to reach our goal of becoming Registered Radiologic Technologists through fundraising and school activities. As a club we are looking to promote and encourage participation in community affairs and activities toward health care and wellness as well as promote Radiologic Technology as a career.

---

Rebuttal Club

We educate and debate about controversial topics in a decorum manner.

---

Residence Hall Association

RHA is a student-run organization whose purpose is to bring the Residence Halls together to become one community; provide an opportunity for every resident to have a voice, offer more programming and to develop school spirit.

---

Running Club

The purpose of this club shall be to encourage AWC students to be physically active.

---

SalsaToros

To create a space for students to dance salsa, as well as other Latin dances, on campus in a safe environment that encourages positive cultural exchange. This club will also support a dance team that will represent AWC Latin dancers.

---

San Luis Conversation Club

The goal of the Organization shall be provide students a safe space to practice and enhance their conversation skills.

---

San Luis Film Club

The purpose of this club is to meet with other cinephiles and discuss movies, acting, directing, and develop student film projects

---

Science Club

We strive to promote the fascinating world of science and encourage scientific literacy.

---

Sigma Beta Chapter of Phi Theta Kappa

The purpose of Phi Theta Kappa is to recognize and encourage scholarship among associate degree students. To achieve the purpose, Phi Theta Kappa provides opportunity for the development of leadership and service, for an intellectual climate to exchange ideas and ideals, for lively fellowship for scholars, and for stimulation of interest in continuing academic excellence.

---

Student Activities Board

SAB aims to provide activities for the student body to promote healthy and positive social interaction.

---

Student Government Association

The AWC Student Government Association is an organized body of students that represent student interests by advocating student concerns, promoting a community atmosphere at AWC and improving student life by providing a variety of activities.

---

Student Health Advocates

The purpose of the Student Health Advocates club is to create and foster a more inclusive and equitable campus through health awareness education and promotion.

Membership Requirements: Interest, dedication, active participation, contribution and attendance at meetings and club activities, professional representation of the club.

---

Student Nurses Association

We are a networking group providing nursing information to the community.

---

Student to Teacher Association

The mission of the STA is to create a bridge between college and career experiences through community, service projects, professional conferences and charity events. We pledge to build sustainable endowments through awards of our available funds, these will help and support our College Students as well as enhance the early learning experiences of young children. Association members are provided with the opportunity to expand their understanding of their responsibilities to their society as pedagogy professionals, as leaders, through investment in the education of our youth, as well as identify and prepare themselves through self-development.

---

Student Veterans and Service Member Organization

A recognized AWC student club that provides networking, social assistance, and leadership development throughout the college experience.

---

Super Smash Bros (SSB)

The purpose is to create Super Smash Bros related events in AWC such as Tournaments as well as meetings to coexist between students. Also the purpose of SSB is to grow the Super Smash Bros community here in Yuma and try to be proficient in the video game and attend big tournaments in the United States.

---

Table Tennis

To develop and hone the individual skill and proficiency of each respective member to instill solid understanding of the rules that comprise the fundamentals of table tennis.This club will focus on honing the talents and abilities of players ranging anywhere from beginner to advanced skill who are looking to become proficient in the sport in a competitive environment that will have them work with each other to grow more throughout the current semester and the ones to come. The club will have positions comprising of President, Vice President, Treasurer, Secretary, and an intermediate coach.   

Membership Requirements: The requirements to register for the table tennis club will be minimal. The prospecting members shall be Arizona Western College students. Also they will have to be ready to participate in playing at least once a week during the respective semester.

---

TEDxAWC

TEDx is a program of local, self-organized events that bring people together to share a TED-like experience. At a TEDx event, TEDTalks video and live speakers are combined to spark deep discussion and connection in a small group.

---

The Bright Side Club

CommYOUnity was formed at AWC-Yuma in partnership with AWC-San Luis this year in hopes of aiding the community. Our Slogan is "Change begins with YOU" because we believe everyone can contribute towards a change whether by a small or big gesture. Our goal is to be able to provide scholarships towards the end of the school year, make donations and bring positive change around the communities of Yuma, San Luis, Somerton and Parker.

---

The Gamers' Guild

To foster a community of gamers in South Yuma County.

---

Theatre Club

The purpose is to enrich, entertain, and educate the Arizona Western College student body through dramatic arts. Hope to accomplish the aforementioned tasks through supporting the AWC Theatre Department, promoting theatre both on campus and in the community, and informing the student body on the benefits of theatre as well as how they can become involved in the program.

---

WEST Western Engineering Science

Membership shall be open to all current Arizona Western College students and must comply with federal laws prohibiting discrimination on the basis of race, sex, handicap, age, sexual orientation, or political or religious affiliation. Compliance with these laws means that membership, benefits, and the election of officers will not be made on the basis of these factors.

---

Yuma College Now

Taking classes at AWC can be daunting.  Registering for courses can be confusing.  Picking the right classes is key to ensuring college success. Many high school / middle school students do not have the network that full-time students have who attend AWC.  The purpose of Yuma College Now is the give middle school / high school students a network to succeed at AWC.

---

Yuma County Collegiate Young Farmers and Ranchers

A program of the Yuma County Farm Bureau which exists to support students engages in agriculture, enhance members' education and develop future leaders for the organization and agriculture industry.

---

Yuma District FFA

The purpose of Yuma District FFA is to bridge the gap between Yuma Region (nee District) FFA members and advisors and AWC Agriculture Department. 

---

Yuma Young Adults

Yuma Young Adults is a multicultural student organization centering in promoting community service, student leadership, cultural and artistic awareness.

---