Our Strategic Plan
The Purpose
Strategic Planning evolves from collaborative engagement with the campus, local, and regional communities to articulate a shared mission, vision, and set of values that drive all decision-making at Arizona Western College. The Strategic Plan that develops out of this process is dynamic and provides a flexible but focused framework for our future.
The History
In November 2016 AWC President Dr. Daniel Corr launched a 15-month Strategic Planning Initiative. He worked with the Classified Association, Faculty Senate, and the President's Cabinet to select Biridiana Martinez, Ellen Riek, and Lori Stofft as tri-chairs for this process. Dr. Corr gave only two directions for the tri-chairs: make the strategic planning process inclusive, and make it transparent. Research into successful strategic planning at other institutions and preliminary discussions with consultants revealed that we should develop a Task Force with balanced representation from our three employee groups, to collaborate with President's Council and AWC students to drive our Strategic Planning process.
Innovation Fund
In 2017 Dr. Corr and The District Governing Board launched the inaugural Innovation Fund to support the development of AWC initiatives aligned with Strategic Planning. This year, $80,000 in funds are available for one-time projects beginning in Spring 2022 that support Strategic Planning efforts, specifically projects that align with AWC's Mission, Vision and Values. This limited time funding is designed to encourage innovative thinking outside the parameters of the annual fiscal year budget.
Learn More
COMPLETE - Establish an equitable model of shared governance that builds a culture of empowerment by minimizing hierarchy and broadening decision making. January 2019
Review processes, procedures, and policies to improve efficiency and create sensible workflows to increase student and faculty/staff satisfaction. July 2019
Design a cross-training model to support collaborative staffing resource flexibility. July 2019
Create and fund a professional development model to grow bench strength and assist with succession planning. January 2020
Deliver upgraded technology that increases automation in Student Services. July 2022
Develop a stable, well-supported, technology-rich teaching and working environment dedicated to current and equitable technological resources. August 2022
COMPLETE - Eliminate negative IT audit findings. December 2020
Develop a technology-literate workforce that embraces IT as a component to improve responsiveness, efficiency, pedagogy, and student learning. August 2021
Deliver upgraded technology that reflects best-practices in teaching and learning and supports an enriched student experience. August 2022
COMPLETE - Develop and implement a multiyear data-driven class schedule that aligns with program offerings and transfer/ workforce demands to increase enrollment by 5% at all campuses. June 2020
COMPLETE - Offer open educational resources in 50% of all classes. July 2022
COMPLETE - Allocate appropriate resources to meet the growing community and educational needs in South County and other district priorities as identified by the Facilities Master Plan. January 2025
Develop and deliver "wrap-around" services that accelerate student time to completion. January 2022
COMPLETE - Research and adopt a Guided Pathways model that aligns with AWC student & community needs. November 2018
Develop a partnership with the high school district to design and deliver aligned developmental curriculum at the High School level to reduce barriers to college-level courses. June 2020
Create regional economic growth by collaborating with key business and industry partners to develop programs tailored to meet the existing employee deficit. January 2020
Develop and deploy three interdisciplinary programs that t local industry needs using flexible delivery models. June 2020
COMPLETE - Explore learning processes to obtain credits based on experience, skills, and prior learning. July 2019
COMPLETE - Develop Institutional Learning Outcomes (ILOs) for all AWC students. October 2018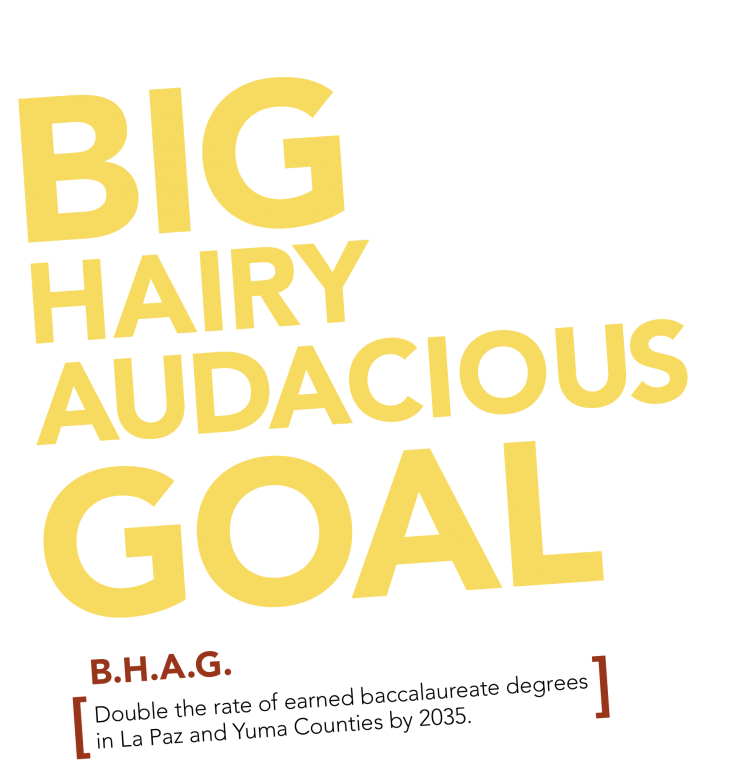 AGILITY – We welcome change, anticipate stakeholder needs, identify flexible, innovative solutions, adapt to meet constituent needs, and are process focused.
PASSION – We dream big, propose creative solutions, exceed expectations, and foster an engaging and supportive environment.
TRANSPARENCY – We build trust through honesty and openness, include stakeholders in decision-making, and communicate thoughtfully and clearly.
UNITY – We collaborate to develop and achieve goals, find opportunities to create synergy and empowerment, and work holistically toward student success.
EMPOWERMENT – We are inspired to do our best work when governance and responsibility are shared equitably, individuals are encouraged to express diverse and innovative perspectives, and courage is esteemed over comfort.
RESPECT – We express the highest levels of professionalism and kindness, seek common ground with openness & inclusivity, challenge ideas with an empathetic mindset, and listen to and acknowledge others' ideas with civility and courtesy.