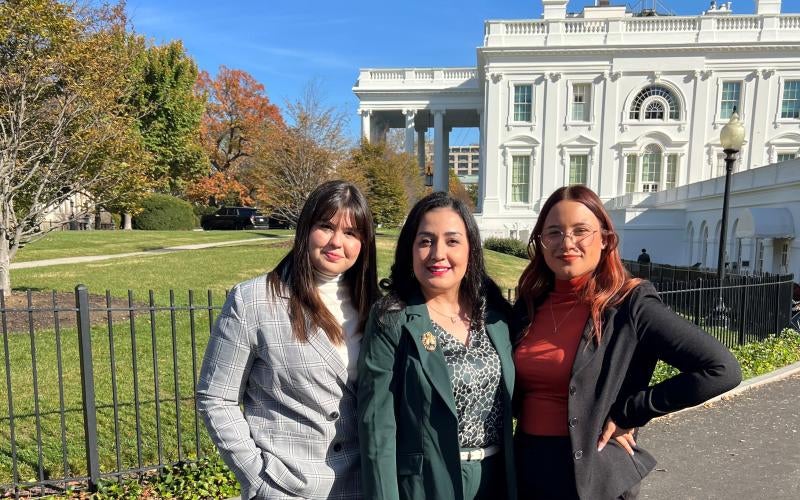 Two first-generation students selected for White House visit
November 16, 2023
---
San Luis professor nominated pair to attend National First-Generation College Student Day
Yuma, AZ (November 16, 2023) – As First Gen College Celebration Week events were underway at Arizona Western College campuses locally, two students from the AWC San Luis Learning Center had the opportunity to join in the celebration at the national level in Washington DC.
On Nov. 8, as part of National First-Generation College Student Day, Samantha Olivarria and Ivianse Rodriguez were selected to attend an inaugural celebration at the White House, accompanied by their professor Dr. Sara Amani. The celebration provided a platform for detailed discussions and insights from various speakers, including the unique challenges and opportunities for first-generation students. The commitment to expanding educational opportunities and the positive impact of collaboration were key themes throughout the event. Meetings with delegates further emphasized the importance of partnerships between educational institutions and political representatives for the betterment of communities and the advancement of education.
"Accompanying these two exceptional students to the First-Generation College Student Day at the White House has been a source of immense pride for me. Nominating them was an honor, and seeing them engage with prominent figures and contribute their perspectives to crucial discussions on education was truly inspiring. These two remarkable student leaders exemplify the spirit of resilience and ambition that defines first-generation students," said Dr. Sara Amani, AWC Professor of Multilingual Composition/Specialist. "This experience reinforces the belief that our institution plays a pivotal role in empowering students to become influential contributors to society. A special expression of gratitude goes to our college administrators for their collective efforts in making this transformative trip a reality. I am proud to be part of a community that values and nurtures the aspirations of our students."
While in Washington D.C., the students had the opportunity to attend meetings with U.S. Congressman Paul Gosar, R-Ariz., and Kelsey Gardner, Deputy Chief of Staff for U.S. Representative Raúl M. Grijalva, D-Ariz. Following a panel discussion at the White House, the students also had the chance to speak with one of the panelists, Melody Gonzales, Executive Director of the White House Initiative on Advancing Educational Equity, Excellence, and Economic Opportunity for Hispanics, regarding AWC's Hispanic Serving Institution (HSI) status. Gonzales spoke as part of a panel on Promoting Educational Opportunity along with Alejandra Campoverdi, advocate and author of the book "First Gen;" Krystal Ka'ai, Executive Director of the White House Initiative on Asian Americans, Native Hawaiians, and Pacific Islanders; and Naeem Jenkins-Nixon, Deputy Director of the White House Initiative on Advancing Educational Equity, Excellence, and Economic Opportunity through Historically Black Colleges and Universities.
"This remarkable achievement reflects the hard work and dedication of these two students and also serves as a testament to the exceptional individuals they are. As students in the fields of radiologic technology and nursing, they have already demonstrated a commitment to excellence and a passion for making a positive impact in people's lives," said Reetika Dhawan, AWC Entrepreneurial College Chief Executive Officer and Vice President of Workforce & Healthcare Programs. "This visit is not only a personal triumph, but also a source of immense pride for Yuma County. Their journey as first-generation students is an inspiration to others, showing that with determination, resilience, and an unwavering pursuit of education, one can overcome any hurdle and achieve extraordinary things."
Samantha Olivarria, a first-generation student majoring in Radiologic Technology, said that her journey to get to the college finish line resembled a captivating movie with unexpected twists and tense moments, but added that it is ending on a positive note. She shared that her time at AWC has been filled with personal growth and fulfillment.
"I am deeply grateful for the opportunities AWC has given me since day one. I cannot find words to express my gratitude to the entire team behind the college, and to wonderful professors like Dr. Sara Amani," said Olivarria. "This journey leaves me with so much to reflect on and inspires me to push myself further, knowing that the sky is the limit. The pride and happiness I see in my parents' eyes as they see their dreams come true through me is an indescribable feeling. I am happy to start setting an example for my siblings and motivating them to join me as the first generation of our family to pursue higher education. We might be the first, but our ambition is to ensure we are not the last, echoing the brave sentiment expressed by Ivianse, my fellow companion on this trip to DC. This is just the beginning, and I encourage everyone to persist; every step taken brings us one step closer to our goals."
Ivianse Rodriguez, a first-generation student majoring in Nursing, shared that college has opened so many doors for her like visiting the White House, an opportunity beyond anything she could have ever imagined.
"I truly feel honored for this opportunity, and I am deeply grateful to Dr. Sara Amani for believing in me and providing me with this chance. Dr. Amani is nothing short of a Superwoman; her incredible efforts made all of this possible. I see Samantha, my fellow traveler to Washington DC, as more than just a companion; she's a role model. She is brilliant, kind, and incredible. She is the first person at AWC I have encountered who truly understands the challenges faced by first-generation students," said Rodriguez.
When sharing the news about the trip with her family, she shared that there wasn't a dry eye in the room.
"Both my mom and my grandma couldn't hold back tears. They said all the struggles and difficulties they have gone through were worth it for opportunities like this. Witnessing their joy brought tears to my eyes," Rodriguez said. "I recall my parents' tireless efforts, working long days to ensure my siblings and I could focus on our education. My extended family, including my grandma, uncle, and aunts, were always ready to support us. It reminded me that, in some way, they are living the life they couldn't have through me, which reinforces my commitment to making the most of every opportunity. I will continue to work hard, seize as many opportunities as possible, and give back to my community in every way I can."
Contact:
Dr. Sara Amani
Professor of Multilingual Composition/Specialist
Arizona Western College
Sara.Amani@azwestern.edu
(928) 344-7503
###
Pictured from left to right: Ivianse Rodriguez, Arizona Western College San Luis Learning Center first-generation student; Dr. Sara Amani, AWC San Luis Learning Center Professor of Multilingual Composition/Specialist; and Samantha Olivarria, AWC San Luis Learning Center first-generation student.