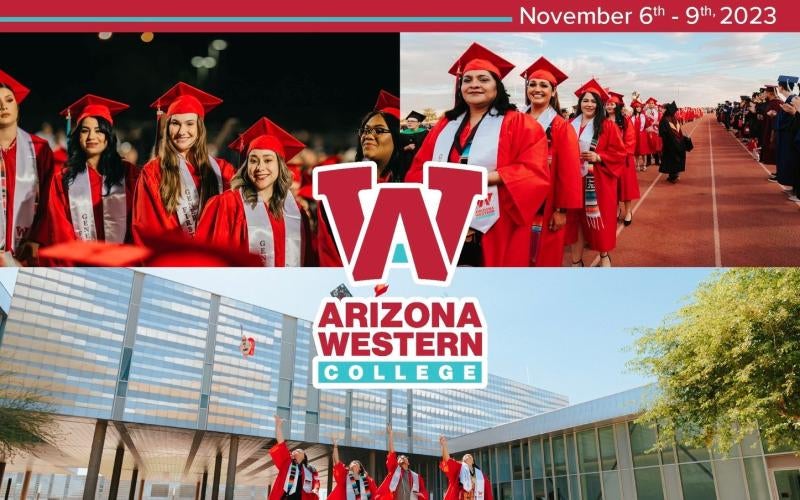 First-Gen Celebration Week to be held at AWC
November 2, 2023
---
Yuma, AZ (November 2, 2023) – Join Arizona Western College for First Gen College Celebration Week!
For the past seven years, institutions from across the nation have celebrated first-generation students, faculty, and staff. About 72 percent of the AWC student population is made up of first-generation college goers and nearly 40 percent of AWC's faculty and staff members also identify as first-generation students.
Wednesday, November 8, was selected as the date for the annual National First-Generation College Celebration to honor the anniversary of the signing of the Higher Education Act of 1965. AWC is joining in the celebration at the San Luis, Parker, and Yuma campuses with a week-long agenda filled with activities from Nov. 6-9. Events will include a faculty, student, and alumni panel; an in-person and virtual financial literacy session, resource fairs; a job fair; and more.
"We are excited for the annual acknowledgment and celebration of first-generation college students at Arizona Western College," said Michelle Thomas, Director of TRIO Programs. "This celebration encourages our campus communities to better understand the barriers plaguing first-generation college students and the supports needed to help this important and resilient population to thrive and flourish in the pursuit of post-secondary education."
Visit each event linked below for more details.
Monday, November 6, First Gen: South County First Gen Kick-off
10:00AM – 2:00PM
San Luis Learning Center, 1340 N. 8th Avenue
• Resource Fair

Tuesday, November 7, Parker Campus Community Expo
11:00AM – 3:00PM
Parker Community Center, 1109 Geronimo Ave
• Job Fair
• University Reps
• Career Exploration
• Networking
• Scholarship Opportunities

Wednesday, November 8, First Gen: Yuma Campus First Gen Celebration Day
10:00AM – 2:00PM
3C Breezeway, Yuma Campus, 2020 S. Ave 8E
• Welcome Address
• Keynote Speaker
• First Gen Resource Fair
• Student, Alumni, and Faculty Panel

Thursday, November 9, First Gen: Scholarships & Financial Literacy Day
12:15PM – 1:15PM
AC 289, Yuma Campus + Virtual Connection
• Learn to Earn Presentation by Earn to Learn

Virtual attendees: Join Zoom Meeting using this link:
https://azwestern.zoom.us/j/9029149664
Meeting ID: 902 914 9664
Contact:
Michelle Thomas
Director of TRIO Programs
Arizona Western College
Michelle.Thomas@azwestern.edu
(928) 344-7763