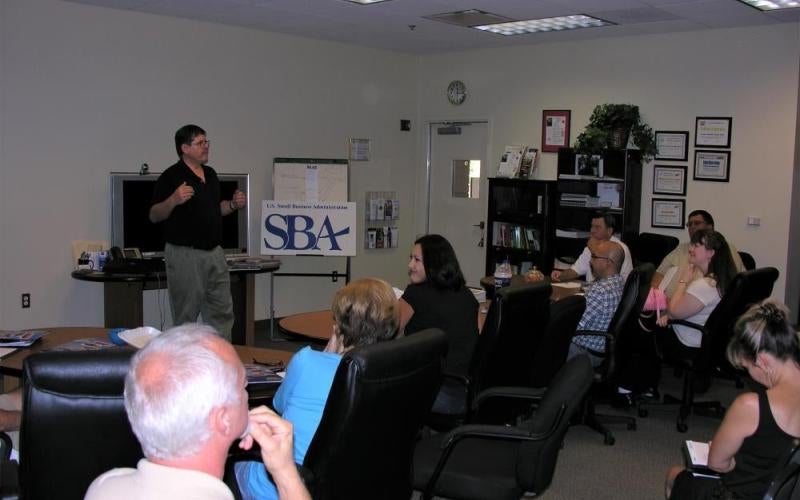 Randy Nelson recalls past 20 years with AWC Small Business Development Center
March 3, 2022
---
SBDC has generated over $90M in capital formation and created over 2,200 jobs since 2003
Yuma, AZ (March 3, 2022) – Randy Nelson dedicated the past two decades of his life to working alongside Yuma and La Paz county businesses. As a former small business owner himself, it was a love for helping his fellow businesspeople succeed that initially attracted him to the position of Arizona Western College Small Business Development Center (SBDC) Director back in 2002.
He first learned about the SBDC through his wife Linda Elliott-Nelson, who was working at AWC and has since retired as the Vice President for Learning Services. His interests were immediately piqued by the center's work, so much so that he tried to volunteer to work there for free with no pay. While he wasn't permitted to do so, the previous director soon retired and Nelson was selected to fill his shoes.
Nelson's varied background helped him get his footing as SBDC Director since the center provides services to a diverse range of businesses. He previously had experience working in everything from restaurants and food service to chemical companies and industrial laundries. Nelson also owned The Spanish Galleon, a specialty store with items from around the world with three locations in the Phoenix area.
"My past experiences really helped with this job, because every day we have people coming in here with different business ideas. To have that breadth of knowledge over multiple industries helped us provide the right type of counseling for our clients," said Nelson.
He saw his role at the center as an educator, where he helped people learn how to overcome the challenges they faced.
 
"Having started a store myself and having been in different industries, that helped with my capacity to deliver services to people who were coming in, many without a full picture of where to begin."
Former AWC Dean for Continuing Education Lynn LaBrie commented that during her 29 years working at the college she saw a lot of SBDC directors come and go. "When Randy came along, he had real business management experience, not just textbook theories. He also has great listening skills, which are critical for a business advisor. It was a pleasure and a privilege to work with him," she said.
Former Yuma County Chamber of Commerce Executive Director John Courtis noted that Nelson was willing to assist everyone that came to him with their business aspirations.
"Sometimes in business, you might look at somebody and think, well, they're not going to make it, but Randy has a super positive outlook on anybody with a dream. He would help people develop plans and build a foundation. As long as there was a drive and a dream, Randy was there to help."
Courtis added that after Nelson and his team help a business get started, their services don't stop there. They continue to follow up with them and stay in contact to make sure they have the guidance they needed to flourish and keep their doors open.
Nelson assisted in the development of business plans, marketing strategies, social media applications, strategic planning, research, patents, procurement registration and certification, personnel management, international trade, and financial analysis.
Since 2003, the SBDC has created over 2,200 jobs, saved almost 900 jobs, started over 400 businesses, and generated over $90M in capital formation, which includes loans people received or money they invested out of their own pocket. Nelson and the SBDC earned several local, regional, and national awards for their work as well as a few international recognitions too.
"During Randy Nelson's remarkable tenure, the Arizona Western College Small Business Development Center has played a critical role in the economic development of Yuma and LaPaz Counties," said AWC President Dr. Daniel Corr. "With Randy at the helm, he has helped countless individuals achieve their entrepreneurial dreams."
Reetika Dhawan, AWC Vice President of Workforce Development and CTE, added, "Randy provided marvelous resources and consultations for small businesses. His passion for leading and guiding entrepreneurs was a great support to the community."
As Nelson recently closed the chapter on his time at the center with his retirement in October, he shared that it's difficult to pinpoint a favorite memory, but a commonality in all of his recollections is his connection to the community.
"I've worked with some really great businesses throughout the years, and having our team get their skills up to where they're successful has definitely been a highlight," said Nelson.
While Nelson is grateful to have had a hand in working with countless area businesses, and some in Mexico too, there are a few that stand out. Like his involvement with a contractor who started out with just $18 and a van, and now has businesses worldwide, mostly working on installations at various ports of entry in border areas. Another is an engineering firm started by two women who did so well for themselves that they have been able to secure government procurement opportunities locally and beyond as a multi-million-dollar company.
"It's rewarding to drive down almost any street in town and knowing I had a hand in getting that business started, or helping this one get a loan, or helping that one expand, or helping this one hire 10 people. There have been a lot of recognitions to the center, and those have always been nice, but the job has never been about how smart I was, or how good I was, it was about the client and what I could do to help them be more successful."
The job hasn't been without its challenges though. At the beginning of the COVID-19 pandemic, center staff shifted to working mostly remote, which meant they had to do individual counseling with businesses via Zoom. And a number of new loan and funding programs to help businesses during the pandemic added extra hurdles as the rules and requirements seemed to change by the hour.
"It was a challenge, but that's what we're here to do - learn about new programs and help businesses," said Nelson.
As COVID restrictions have started to ease, Nelson shared, "We've seen a tremendous group of people that are interested in opening new businesses. They don't want to go back to where they were before. Especially if they have been working from home, they don't want to go back to the office setting. So, we have been seeing a lot of people coming in now looking to start something new."
Contact:
Mandy Heil
Associate Dean of Communications & Marketing
Arizona Western College
Mandy.Heil@azwestern.edu
(928) 314-9594
###
Photo caption: Randy Nelson, who recently retired as Director of the Arizona Western College Small Business Development Center (SBDC), is pictured here leading a training session for members of the community. During the two decades Nelson spent in the leadership role at the SBDC, he often would conduct over 20 trainings per week in various areas related to business.