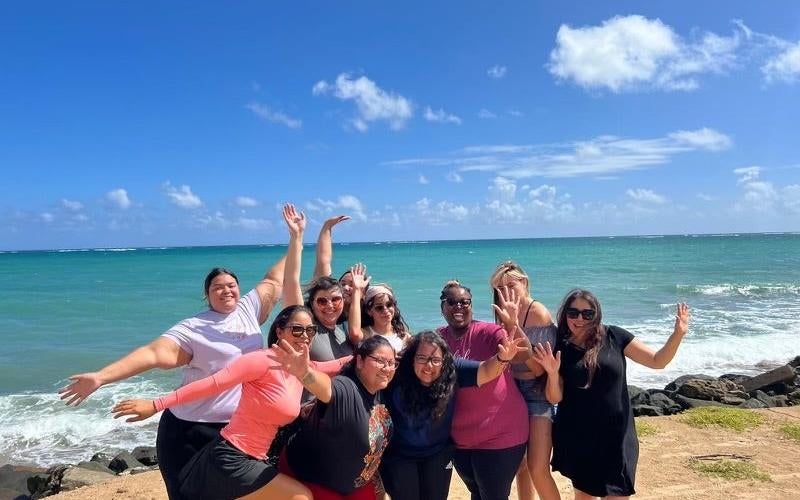 KEYS students participate in Global Virtual Internship
September 13, 2022
---
Program includes Cultural Clarity Experience trip to Puerto Rico
Yuma, AZ (September 13, 2022) – This summer, seven students from the Arizona Western College KEYS Program had the opportunity to participate in Zion Leadership Group's Global Virtual Internship, which culminated with a Cultural Clarity Experience trip to Puerto Rico.
The six-week Global Virtual Internship is geared toward preparing students for the 21st-century workplace and is based on an individual student's educational interests and professional aspirations. Through the online program, students learned critical skills like independence, applied business communication, virtual presentation, and project management.
Additionally, the Cultural Clarity Experience aims to develop future global leaders by challenging participants to question their biases and stereotypes through immersion trips.
"This experience allowed our students to grow in so many ways and added tremendous knowledge to their understanding of the world that they are the future leaders of," said Michelle Thomas, AWC Director of TRIO Programs.
Mireya Banuelos, 19, was part of the first group of AWC students to participate in the Global Virtual Internship and Cultural Clarity Experience trip, which were both funded through the KEYS Program.
Banuelos is set to graduate from AWC in the spring of 2024 and hopes to transfer to the University of Arizona with future aspirations of becoming a school American Sign Language (ASL) Interpreter.
"Personally and professionally, this experience helped me feel a lot more prepared for my future than I was before," she said. "For example, I learned how to write emails professionally, how to market myself on social media, how to produce creative resumes and portfolios, and so much more."
While the internship selection process was nerve-racking, she shared that it was exciting to discover that she had been chosen to participate.
"I learned so many new things during each session that I can take into the real world," said Banuelos.
She concluded that she is thankful for the KEYS Program, which is where she first heard about the internship.
"The KEYS Program is amazing, they are such great people. They sent an email about the internship and gave us some background about the program during a Zoom meeting. They have also supported all of us through tough classes and have helped us get to the next steps in our education."
The KEYS program offers academic support services including course selection, financial aid and scholarship guidance, career exploration, cultural enrichment, personal development and coaching, and assistance with graduation and transferring to vocational or university-level programs.
To be eligible for the KEYS Program, students must be currently enrolled at AWC, be a permanent resident or citizen of the US, and a high school graduate. Additionally, students must meet at least one of the following eligibility criteria: first-generation college student, low-income background, or have a documented disability. Recent graduates of the Talent Search or Upward Bound programs can contact KEYS to continue getting the support and resources available to them at AWC.
Applications are accepted year-round, but the program only serves 240 students per school year. Once the program is at capacity, applicants will be placed on a waiting list not to exceed one academic year. The application is available online at azwestern.edu/student-support/keys/application. For more information, contact TRIO KEYS Program Academic Success Advisor Rosa Báez-Ruiz at Rosa.BaezRuiz@azwestern.edu or 928-344-7762.
Contact:
Michelle Thomas
Director of TRIO Programs
Arizona Western College
Michelle.Thomas@azwestern.edu
(928) 344-7763
###
Caption information: This July, seven students from the Arizona Western College KEYS program traveled to Puerto Rico for a Cultural Clarity Experience trip after completing Zion Leadership Group's Global Virtual Internship. This photo was taken on the last morning of their Cultural Clarity Experience when students had an opportunity to take a salsa class near the beach. During their time in Puerto Rico, students went on tours, hiked through rivers and caves, enjoyed the beaches, learned Bomba and Salsa, and more.