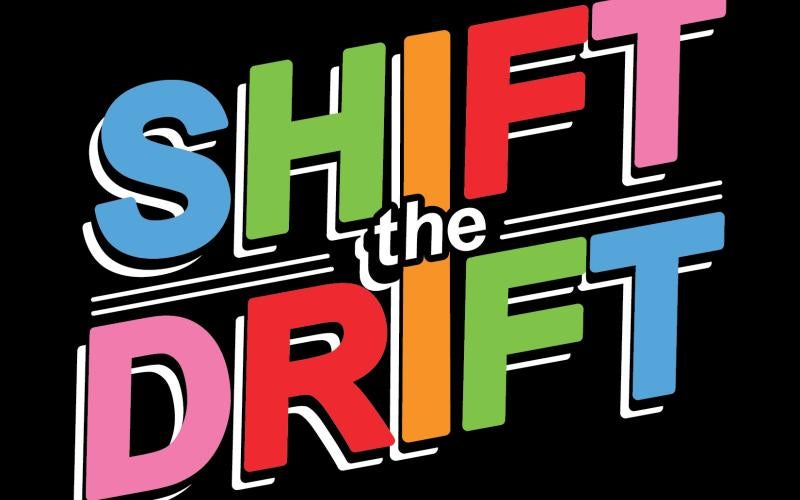 TEDxAWC tickets on sale Dec. 12
December 7, 2022
---
Nine finalists announced as event speakers
Yuma, AZ (December 7, 2022) – Tickets for the inaugural TEDxAWC event will be available for purchase beginning Monday, Dec. 12.

The conference will feature nine finalists selected to speak on the theme "Shift the Drift": Introducing new perspectives to regularly practiced procedures in different disciplines may not be an easy task. We want to initiate conversations on how to reflect and bring awareness of analyzing what the drift is, determining the need for new ideas worth spreading in our community, and assessing the effectiveness of implementing new changes.

The event is an opportunity to inspire creativity and ingenuity, and to honor the voices of Arizona Western College students, faculty and staff, the larger community of Yuma and La Paz Counties, and beyond.

TEDxAWC will take place from 4-8 p.m. on Friday, March 17, 2023, at the AWC Theater, 2020 S. Avenue 8E. General admission is $45 and tickets can be purchased online here. As a first-time event, attendance is limited to up to 100 attendees. Those unable to secure an admission ticket are invited to attend the Livestream Watch Party in person on campus at the Schoening Conference Center - North Wing with AWC students, faculty, and staff.
TEDxAWC Finalists:
(in alphabetical order)
Valeria Bogorevich
Dr. Valeria Bogorevich is a teaching professor at Arizona Western College. She holds a Ph.D. degree in Applied Linguistics from Northern Arizona University. Her research focuses on second-language pedagogy and assessment.

Trisha Campbell
Dr. Trisha N Campbell is a trained and certified yogi. This training pervades her other work as an artist, researcher, and professor at Arizona Western College. She did her doctoral studies at the University of Pittsburgh in Writing and Rhetoric in 2015. She began her research trajectory by studying the language and affects that feed into and out of violence. From this careful study of violence, she began to ask what happens when we don't assume violence is outside of us and our community. This led her to an impossible but necessary concept of radical empathy. Her research asks enduring questions around how to foster and practice a radically non-divisive empathy in our analogue and digital worlds. She is currently working on an article entitled "Empathy Training," which is a series of vignette articulations of her serialed attempts at empathy—as both research and practice—throughout the last five years.

Shawn Clavell & Kevin Kato
Shawn Clavell, PT, DPT, is a professor of Anatomy and Physiology at Arizona Western College. Dr. Clavell received his baccalaureate degree in kinesiology from Arizona State University and a doctorate of Physical Therapy from Northern Arizona University. Dr. Clavell is also a licensed and practicing physical therapist in Yuma where he practices in both the hospital and outpatient settings. Shawn is dedicated to upholding the vision of the American Physical Therapy Association which is to "Transform society by optimizing movement to improve the human experience." Dr. Clavell enjoys outdoor recreational activities with his family which includes his beautiful wife Sarah, young son (Remi), two cats, and dog. Shawn also participates in several volunteer events both civically and professionally.

Kevin Kato is a full-time faculty member at Arizona Western College where he teaches writing courses. He's passionate about equipping students with the rhetorical knowledge and tools to effectively communicate in the variety of written and oral genres they'll encounter along their academic and professional journeys. This passion also drives a domain of his research in technical professional communication (TPC). As a field also informed by rhetorical theory, technical professional communicators excel at bridging audiences through creating conditions for alignment and understanding. One such area is the rhetoric of health medicine. Kevin is interested in how rhetorically effective communication can not only improve the practice of medicine, but also help improve people's health and well-being. He's currently working on projects that explore metabolic health and functional movement. When not teaching or researching, you can find him pounding pavement around town or on the local trails.

Ruchi Lamba
Ruchi Lamba is a marketing executive with a passion for storytelling through customer journeys. Applying the same thought process to her personal life, Ruchi has discovered insights that have uplifted, enlightened and taught her to thrive using the power of acceptance. Ruchi also runs a dance school where she teaches a 2,000-year-old ancient Indian dance form called Kathak (which means storytelling in Sanskrit). She is a single mom of two kids, including a 16-year-old son with autism. Ruchi combines her marketing experience, her journalism background, her Kathak training and her life experience as a single mother raising a mildly verbal child to help people use the power of acceptance to discover their hidden strengths.

Troy Love
Two-time Amazon Best-Selling Author Troy L. Love, LCSW has spent his life committed to finding unique and attainable ways of helping people achieve peace, joy, and love in their lives. Troy began his training in trauma-informed recovery while achieving his Master's Degree in Social Work from the University of Pittsburgh. After graduating, Troy relocated to Yuma, Arizona, where he serves as Clinical Director of Yuma Counseling Services. He continues working as a Psychotherapist, Educator, Consultant, and Keynote Speaker. He is the founder of Finding Peace Consulting and is the Host of the Finding Peace Podcast. Troy continues writing books including his highly praised publication, "A Year of Self-Love." Troy developed the Finding Peace Model which empowers learners to shift pain to purpose and live in choice. He is the father of two amazing children.

Lily McNair
Lily McNair is a Graduate Dietetic Intern at the University of Arizona and is completing her dietetic internship in Yuma, AZ in order to become a Registered Dietitian. She also works as a nutritionist for the Regional Center for Border Health, Inc. Lily works with a registered dietitian and medical providers to design and implement nutrition programs in the Yuma rural border community to increase access to culturally competent nutrition care across life stages and health states. Her work has focused on women's health, culinary medicine, and health education. Lily also serves as President of the Southwest District, Student Representative/Conference Committee for Arizona Academy of Nutrition and Dietetics, and Student Representative for Nutrition Education for the Public Dietetic Practice Group. Lily's personal and professional goal is to serve the underserved, support healthy living in clinical practice, and increase the health literacy rate through health education in Yuma.

Trudie Milner
Dr. Trudie F. Milner is the Chief Operating Officer of Yuma Regional Medical Center in Yuma, Arizona. She holds a Ph.D. in Sociology with expertise in policy, organizational behavior and the management of change. Her professional background includes more than 25 years of diverse healthcare leadership experience ranging from entrepreneurship, the corporate side of healthcare, work in a large integrated multi-hospital system and an academic medical center. Dr. Milner has a strong record of achieving results for developing new lines of business, methods for delivery of services, multi-disciplinary collaboration, quality and performance improvement, and strategic planning. Passionate about the education of healthcare professionals, she is an adjunct assistant professor in the College of Health Professions at the Medical University of South Carolina where she has taught for the last 10 years. She is an active researcher and published author.

Shadi Vahdat
Dr. Shadi Vahdat is a board-certified internal medicine physician specializing in integrative medicine. When she was diagnosed with an autoimmune condition and advised to start high-risk medications shortly after finishing her medical training, she knew she wanted a different approach for treating her condition. Navigating a new course for her health journey resulted in additional training in integrative medicine which included: nutritional and lifestyle medicine, traditional Chinese medicine, acupuncture, yoga and meditation. She continues to treat hospital patients as assistant clinical professor at the University of California, Los Angeles and teaches doctors in training. She is the Founder for LiveWell Center for Integrative Medicine in Los Angeles and has authored several research papers in cardiovascular medicine. In her free time, she enjoys hiking, aerial acrobatics, and traveling with her husband and two daughters.

Anne-Heather Welch
Anne-Heather holds a Bachelor of Science in Allied Health with a Diagnostic Medical Imaging/Therapy Emphasis, is a board-certified Radiologic Technologist, and a member of the American Society of Radiologic Technologists and Phi Theta Kappa. Dedicated to service, she supported organizations as an active board/committee member for the American Business Women's Association, the Auxiliary of Elk's, and LGBTQ organizations locally and nationally, often assuming leadership roles. Research on psychological influence of patient choice in radiation safety earned her a scholarship at the Arizona Western College Student Showcase. She was awarded the YRMC Ernest F. Rillos, MD Memorial Scholarship, Kayla Sharp Memorial Scholarship; American Business Women's Impact, Cook's, and Assistance League of Yuma Academic Scholars Award; and the 100 Club of Arizona Award. Distinctions include serving as a guest speaker at the Celebration of Scholars event at AWC and Commencement Keynote at a local high school. She spends time as a music programming host on public radio.
TEDxAWC was one of eight proposals approved through the 2022 AWC Innovation Fund, where faculty, staff and students had the opportunity to present a variety of ideas in hopes of being granted the funds to make their initiatives a reality. Professor of Multilingual Composition/Specialist Dr. Sara Amani was awarded $16,500 for her TEDxAWC proposal to implement the project. She was able to secure the TEDx official license for the event from TED Conferences.
Add TEDxAWC to your calendar, and follow TEDxAWC on Twitter, Facebook, and Instagram, to help celebrate the incredible innovations and important ideas that will be featured.
About TEDx, x = independently organized event
In the spirit of ideas worth spreading, TEDx is a program of local, self-organized events that bring people together to share a TED-like experience. At a TEDx event, TED Talks video and live speakers combine to spark deep discussion and connection. These local, self-organized events are branded TEDx, where x = independently organized TED event. The TED Conference provides general guidance for the TEDx program, but individual TEDx events are self-organized. (Subject to certain rules and regulations.)
About TED
TED is a nonprofit organization devoted to Ideas Worth Spreading, often in the form of short talks delivered by leading thinkers and doers. Many of these talks are given at TED conferences, intimate TED Salons and thousands of independently organized TEDx events around the world. Videos of these talks are made available, free, on TED.com and other platforms. Audio versions of TED Talks are published to TED Talks Daily, available on all podcast platforms.

TED's open and free initiatives for spreading ideas include TED.com, where new TED Talk videos are posted daily; TEDx, which licenses thousands of individuals and groups to host local, self-organized TED-style events around the world; the TED Fellows program, which selects innovators from around the globe to amplify the impact of their remarkable projects and activities; The Audacious Project, which surfaces and funds critical ideas that have the potential to impact millions of lives; TED Translators, which crowdsources the subtitling of TED Talks so that big ideas can spread across languages and borders; and the educational initiative TED-Ed. TED also offers TED@Work, a program that reimagines TED Talks for workplace learning. TED also has a growing library of original podcasts, including The TED Interview with Chris Anderson, WorkLife with Adam Grant, Far Flung with Saleem Reshamwala and How to Be a Better Human.
Follow TED on Twitter, Facebook, Instagram and on LinkedIn.
Contact:
Dr. Sara Amani
Professor of Multilingual Composition/Specialist
Arizona Western College
Sara.Amani@azwestern.edu
(928) 344-7503