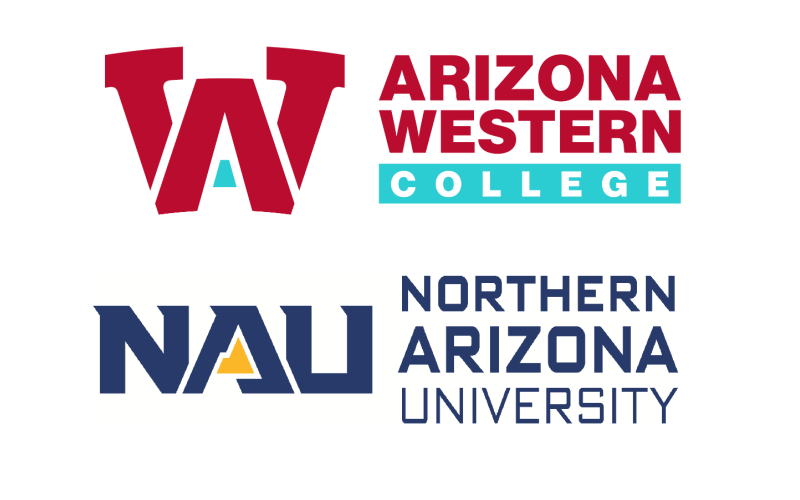 NAU partners with AWC in Arizona College Excellence initiative
May 9, 2023
---
Program to provide scholarship funding, comprehensive support for rural college attainment
Yuma, AZ (May 9, 2023) – Arizona Western College students looking to transfer to Northern Arizona University will be eligible for scholarships and comprehensive support that will propel them forward in their educational journey thanks to a recent partnership.
A $3.8 million grant from the Helios Education Foundation, matched by $3.8 million from the Northern Arizona University Foundation, will create the Arizona College Excellence (ACE) initiative to help community college students persist, transfer to NAU, and graduate prepared for personal and professional success.
ACE is a comprehensive effort to support community college students and includes $2.2 million in direct scholarship funding to partner community colleges to help students persist and eventually transfer to NAU. The initiative is integrated into NAU's Arizona Attainment Alliance (A++) ecosystem approach to statewide educational attainment, and is a partnership with AWC and five other colleges throughout the state that primarily serve rural and tribal communities:
1. Arizona Western College
2. Coconino Community College
3. Diné College
4. Mohave Community College
5. Northland Pioneer College
6. Yavapai College
The initiative is modeled after AWC's existing, successful Yuma Educational Success (YES) program with NAU in that it will provide shared resources as well as strategic and incentivized partnerships with regional community colleges to promote attainment.
"Arizona Western College has a long history of partnering with NAU to expand educational opportunities in Yuma County. The ACE initiative will undoubtably accelerate economic mobility and create the thriving communities we seek. My sincere thanks to Dr. Cruz Rivera and the Helios Education Foundation for this partnership," said AWC President Dr. Daniel Corr.
Dr. Michael Sabath, Associate Vice President and Campus Executive Officer for NAU-Yuma, added, "The ACE initiative will contribute greatly to strengthening educational pathways between AWC and NAU-Yuma and, in turn, help to increase bachelor degree attainment rates and better meet the needs of employers in our region."
Through the multi-institutional partnership, ACE will provide comprehensive supports and resources to facilitate student success by expanding access to students in rural and tribal communities who begin their postsecondary journey at a local community college.
"ACE is our commitment to students throughout Arizona that NAU is a partner in supporting aspirations for upward mobility, workforce preparedness, and social impact," said José Luis Cruz Rivera, president of NAU. "I am appreciative of the support of Helios and the NAU Foundation, which will allow NAU and our partner community colleges to strengthen opportunities for transfer students, improve workforce preparation, and drive valuable economic outcomes for individuals and communities. ACE is an example of the power of the A++ model to use our collective reach as distinct institutions to positively impact students and communities, delivering true value from higher education and driving prosperity in every corner of the state."
In addition to robust scholarship funding—available for up to three years of students' community college journey—ACE also will facilitate increased communication, student outreach and support; create clear academic pathways that lead to positive career outcomes; and provide significant financial resources, such as summer stipends and basic need funds, that help students meet their full potential and realize their personal and professional aspirations.
"The Arizona College Excellence initiative aligns with our mission to expand postsecondary enrollment and completion in Arizona," said Paul J. Luna, president and CEO of Helios Education Foundation. "We are proud to partner with Northern Arizona University on this at a time when there's an urgent need in Arizona to improve education outcomes. We also look forward to broadening our reach in northern and rural parts of the state through this initiative."
"As NAU and A++ advance the crucial work of meeting the state's attainment imperative, ensuring that talented students can meet their full potential and participate in the booming economic growth we are experiencing in Arizona, the ACE initiative directly addresses barriers to retention and success for students and ensures they can successfully transfer from a community college to NAU," said Jonathan Gagliardi, vice president for economic mobility and social impact at NAU. "Through ACE, NAU and our partners are taking meaningful action to redesign educational experiences and support structures to center equitable access and attainment, impactful workforce outcomes, and upward mobility."
The ACE initiative will launch this summer, with initial students enrolling and receiving scholarships in Spring 2024.
Contact:
Mandy Heil
Associate Dean of Marketing and Communications
Arizona Western College
Mandy.Heil@azwestern.edu
(928) 314-9594