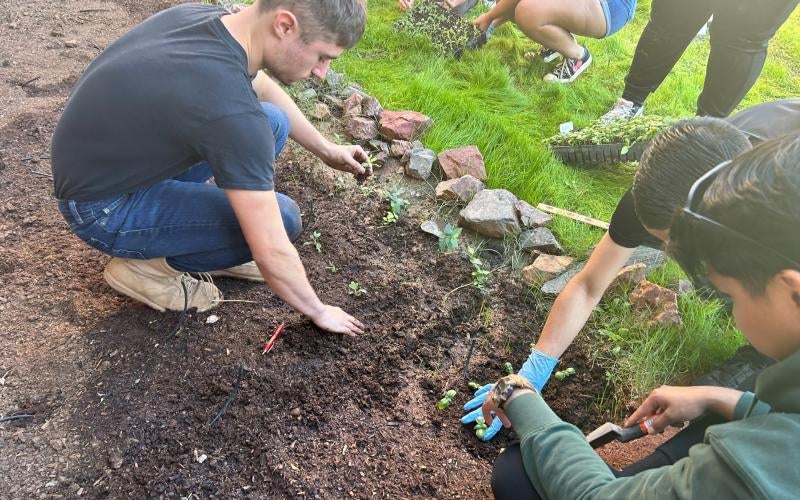 Facilities and Agriculture departments create herb garden to be used by Culinary Arts
October 30, 2023
---
Yuma, AZ (October 30, 2023) – Three departments at Arizona Western College have cultivated a partnership that is sure to yield some delicious results.
The Facilities department recently prepped an area with basic landscaping located outside of the Culinary Arts classroom and installed an irrigation water supply to turn the space into a fully functioning herb garden. The Agriculture program laid down topsoil and transplanted plants grown in their greenhouse so that Culinary Arts classes could harvest the herbs and incorporate them into their dishes.
"This is just another example of the collaborative efforts between Facilities and faculty to give our students the skills they need to be successful in the real world," said AWC Director of Facilities Management Steve Eckert. "Together we can make great things happen for our students."
Professor of Agriculture Zoe Hawk and students in her PLS-108 Plants and People class are the facilitators of this project for the Agriculture Department.
"Our agriculture students are excited to learn about herbs, but most especially about sharing with the students in the Culinary Arts program so that their learning will be enhanced," said Hawk.
The PLS-108 course focuses on botany and how people use plants in their daily lives.
"The herb garden collaboration is a way for students to connect the learning being done in the classroom with a hands-on experience," said AWC Director of Agriculture Programs Tosha Gillispie. "We see this as a great opportunity to share the 'farm-to-table' experience in a unique and cross-curricular fashion. Agriculture students will grow the herbs and Culinary students will use them in their cooking, culminating in a hors d'oeuvres tasting for both groups of students."
AWC Professor of Culinary Arts Chef Bob Gedeon added, "This is going to be a great partnership, and we are so thankful for all the work that has already been put into making this project happen. Having access to fresh herbs right outside of our classroom will be an invaluable experience for our students."
Contact:
Tosha Gillispie
Director of Agriculture Programs
Arizona Western College
Tosha.Gillispie@azwestern.edu
928-317-6203
Contact:
Steve Eckert
Director of Facilities Management
Arizona Western College
Stephen.Eckert@azwestern.edu
928-314-9475
Contact:
Bob Gedeon
Professor of Culinary Arts
Arizona Western College
Robert.Gedeon@azwestern.edu
928-344-7737