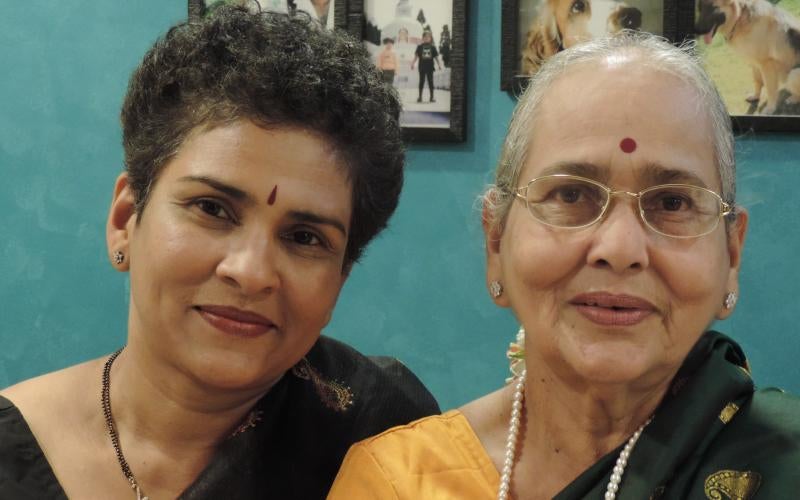 AWC librarian featured in NPR's series on cooking
December 12, 2022
---
Yuma, AZ (December 12, 2022) – When Sujata Halarnkar heard that NPR was searching for family recipes to be highlighted in their special cooking series, she jumped at the opportunity to submit a favorite dish.

While she knew her chances of being selected were slim, she had the perfect story to share about a treasured recipe her family has been cooking for the past four generations.

"I knew NPR was accepting submissions on a national level and thousands of people were going to participate, but I thought, it doesn't hurt trying," she recalled.

A few months later, when traveling home from a trip to Egypt, she turned her phone back on in the Frankfurt airport and learned that her entry had been chosen.

"It was so unexpected," said Halarnkar, Outreach and Instruction Librarian at Arizona Western College. "I was super excited, I had actually forgotten about it until that phone call. I really feel honored to have the legacy of my family's cooking featured in this series. It's just been such an amazing experience."

Halarnkar shared that it had always been a goal of hers to preserve her mom's traditional recipes for future generations.

"My mom has never written any recipes down, that's just the way of cooking for her. Everything is just a pinch here and a pinch there, and she never forgets her recipes. I, on the other hand, have to write everything down. And I know that if I don't, in a couple of generations they will be gone. So, I always made it a point to learn everything traditional from my mom."

One recipe in particular, a spicy fish curry, stands out above all the rest because of the childhood memories attached to it. The dish reminds her of all the summers she would spend with her grandparents in a village south of Mumbai where she grew up.

"I would spend two months of summer there with my mom and three sisters. My grandma would cook for us and it was the best time of my life. Of course, it was very carefree, no worries at all you know, getting spoiled by uncles and aunts and grandparents, it was a wonderful time. We would eat fresh food and fruits, and this fish curry is something my grandma would always make. There are so many family memories that I associate with that recipe."

When she got married in 1987 and moved to the U.S., she continued to make this recipe for her family, and now it's one she enjoys cooking with her daughter Natasha. On her upcoming trip to India, Halarnkar knows this will be a dish her family will share together.

"Every time I go to India this is something my mom always makes, it's like a welcome dinner," she said.

Halarnkar will be cooking too. This time she'll be taking a new baklava recipe for her mom to try.

To read her story, "Spicy fish curry dish is seasoned with childhood memories of India's Konkan region," included as part of the "All Things We're Cooking" series, visit NPR's website here: www.npr.org/2022/12/04/1139533371/spicy-fish-curry-recipes-food. Halarnkar will also be featured in an upcoming audio interview on NPR.
For more recipes, Halarnkar and her daughter have created a cooking and traveling blog that can be found here: www.nutsfornaan.com.
Aji's Fish Curry
Ingredients
1 pound fish fillet — salmon or trout works well
1 teaspoon turmeric powder
salt to taste
2 green chilis, sliced
6 cloves garlic (4 peeled and 2 peeled and sliced for tempering)
2 tablespoons chili powder (or 7 to 8 dry red chilis)
2 teaspoons coriander seeds or 1 teaspoon coriander powder
1 tablespoon cilantro, chopped
1 teaspoon cilantro, chopped for garnishing
½ cup red onion, sliced and divided
1 cup coconut milk, canned
2 pieces kokum, special sour fruit available in India (optional) or 1 tablespoon lemon juice or 1 teaspoon tamarind paste
2 tablespoons olive oil
1/2 cup water
Directions
Cut the fish fillet into 1 1/2-inch pieces. Rinse once under cold water. Pat dry and place the fish pieces in a bowl.
Marinate the fish with turmeric and salt and set it aside for at least 15 minutes. Meanwhile, blend onions, garlic, coriander seeds, chili powder and cilantro to a fine paste with a little water (about 1 tablespoon).
In a heavy-bottom pan, heat oil and add the sliced garlic pieces to the hot oil. Once the garlic turns golden brown, add the sliced onions and green chilis. Sauté until the onions are soft. Then add the blended spices and fry it for a few seconds.
Add ¾ cup of coconut milk and 1 cup of water. Mix it well. Adjust the water if you think it is too thick. Bring it to a boil and gently add the fish pieces along with the kokum or lemon juice. Let it simmer for 3-4 minutes on medium heat or until the fish is just turning opaque.
Garnish with the remaining coconut milk and serve hot with steamed rice.
Contact:
Sujata Halarnkar
Outreach and Instruction Librarian
Arizona Western College
Sujata.Halarnkar@azwestern.edu
(928) 344-7733

###
Caption information:

Arizona Western College Outreach and Instruction Librarian Sujata Halarnkar (left) was recently featured in NPR's special series "All Things We're Cooking." The interview shares the story behind the spicy fish curry recipe that her family has been cooking for the past four generations. It's a dish she associates with many of her best childhood memories, and her mother Sulochana Shridhankar (right) still makes it for her today when she goes back to visit her in India.