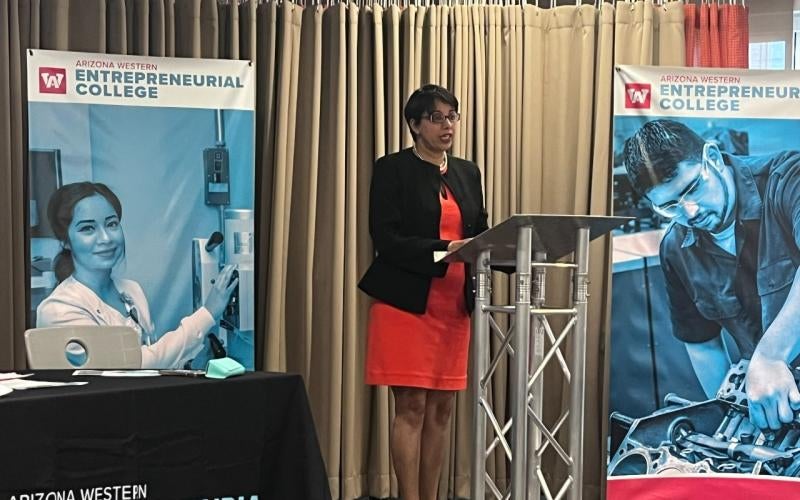 AWC Launches New Entrepreneurial College
May 18, 2023
---
Program creates improved education and training pathways for students and a more reliable pipeline of talent for employers
Yuma, AZ (May 18, 2023) – To meet a growing demand for an evolving entrepreneurial and workforce-based industry, Arizona Western College will be adding what it has been referring to as a "Second Pillar" to its services, officially titled the Entrepreneurial College.
This arm of the college was developed to align career-connected learning with the region's rapidly evolving employment needs. Based on input from more than 20 roundtable sessions from Career and Technical Education leaders, professors, and staff across all 10 of the college's campuses, the Entrepreneurial College will be one of the nation's first of its kind.
Vice President of Workforce Development and CTE, Reetika Dhawan, will now also serve as the Entrepreneurial College's Chief Executive Officer. As a primary leader in the program's creation, Dhawan states: "This endeavor responds to students seeking the knowledge and skills needed for in-demand jobs and career advancement, but also for our region's employers who need workers with specialized training. AWC is the bridge between the two."
The Entrepreneurial College is composed of a blend of credit- and non-credit-based course offerings and not all classes are tied to the usual semester schedule. This more flexible structure better accommodates learners with complex schedules. The Entrepreneurial College will continue to grow its relationships with local employers who, through innovative partnerships, will co-create a robust and reliable pipeline of qualified workers who come to the workplace with industry-recognized knowledge, experience, and necessary credentials and certifications.
AWC President, Dr. Daniel Corr, makes clear the addition of the Entrepreneurial College takes nothing away from the traditional academic pathways—which are very successful and will continue. "The Entrepreneurial College is not a diversion from our traditional strengths to exceptionally prepare students for transfer," he stated. "Rather, it is a demonstration of AWC's agility and responsiveness to the ever-evolving workforce training needs of our community and industry partners."
Delivery of courses under the Entrepreneurial College is expected to begin in the fall 2023 semester.
Contact:
Reetika Dhawan
Chief Executive Officer, Entrepreneurial College & Vice President of Workforce Development
Arizona Western College
Reetika.Dhawan@azwestern.edu
928-344-7567
Contact:
Karyn Van Why
Executive Administrative Assistant to the Chief Executive Officer, Entrepreneurial College & Vice President of Workforce Development
Arizona Western College
Karyn.VanWhy@azwestern.edu
928-317-6339