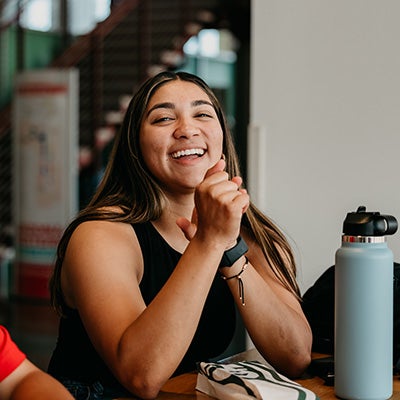 Textbooks
Beginning July 1, AWC will no longer be in contract with a campus bookstore. Entering fall semester, students will purchase their textbooks and course materials from the websites or vendors of their choice, or at the guidance of their faculty.
How to buy textbooks and course materials
Using the textbook information listed in Self-Service, you will purchase your textbooks from any online source or vendor of your choice. To find the correct materials, be sure to use the correct ISBN (International Standard Book Number) that correlates with the textbook.
AWC is not affiliated with any textbook vendor*, but some popular websites for purchasing textbooks are:
For non-book course materials, such as clay, patches, uniforms, etc., students will receive information from faculty regarding required supplies and where they can be purchased.
*AWC does not sponsor, endorse, or profit from any of the above websites, nor are we contracted with any particular vendor.
Financial Aid Information
Beginning August 11, 2023 students who are receiving a financial aid award will receive 25% of their refund in order to purchase textbooks and supplies. A second disbursement for the remaining 75% will take place on September 5, 2023.
VERY IMPORTANT:
Students must check their AWC Student Email frequently and follow up with any outstanding financial aid documents or other requirements in order to receive funds in a timely manner.
Students must check their AWC Self-Service account to ensure the correct major is listed. Financial Aid will only pay for courses that count toward the declared major.
Visit our Paying for College section for all of your options on paying your tuition and fees. Be sure to sign up for direct deposit through BankMobile to get your funds as quickly as possible.
Textbooks at the AWC Library
The AWC-NAU Academic Library may carry some textbooks on reserve for student use. If textbooks are delayed, students can check with their instructor to see if they placed textbooks on reserve for temporary use. Most reserve materials are only available to use for a limited time, and often only to be used inside the library.
Student FAQs
Important dates and deadlines
May 11 – textbook information entered into Self-Service
July 12 – deadline for any textbook changes
August 11 – a portion of students' financial aid award disbursed
August 14 – all courses published on Canvas
Entering textbook information
Textbook information is entered into Self-Service for students to view. Information displayed includes the ISBN, Title, and Author. Textbooks can be listed as either recommended or required.
Library Reserve Request
If you would to make textbooks available to students through Library Reserve, please fill out a Library Reserve Request and allow up to three days to process the materials for the reserve shelf.
Faculty FAQs