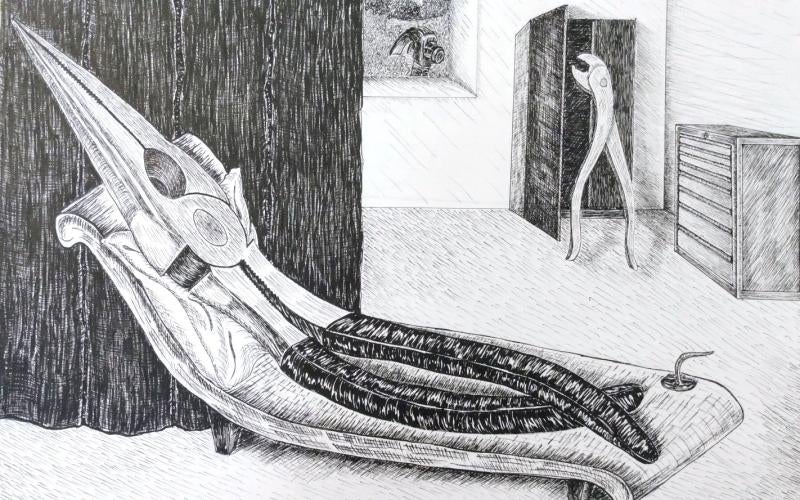 Professor of Fine Arts selected for VMRC Juried Art Exhibition
April 18, 2023
---
San Luis, AZ (April 18, 2023) – Jules Floss, Arizona Western College Professor of Fine Arts, was recently chosen to have her work showcased in a national exhibition alongside artists from across the country.
The Virginia Mennonite Retirement Community (VMRC) hosts an annual Juried Art Exhibition to highlight talented artists and enhance the lives of VRMC residents, staff, and visitors. Floss is one of 82 artists that will be featured in the exhibition from the over 430 entries submitted by 156 artists.
The exhibition showcases a wide variety of original, mixed-media art in categories including Craft/Traditional Arts, Photography, Drawing, Film/Video/New Media, Mixed-Media/Multi-Discipline, Painting, and Sculpture. Floss was selected for her pen and ink drawing, "Venus De Walt," a composition based on Titian's "Venus of Urbino" and Manet's "Olympia."
A total of $5,500 in prize money will be awarded during the exhibition for Jurors' Choice, Popular Choice, Best in Show, Best in Division, and Honorable Mentions. Participants are also eligible to apply for a Professional Development award intended to support an artist's growth in their current work or in a new direction.
The 2023 VRMC Juried Art Exhibition opens Sunday, May 28, and closes Tuesday, June 27. A reception and awards ceremony will be held to recognize featured artists on Sunday, June 4, at VMRC in Harrisonburg, Virginia.
Floss received her BFA in Painting and Drawing from The Ohio State University and MFA in Printmaking from New Mexico State University. She is currently a Professor of Fine Arts at the AWC San Luis Learning Center. Her work has been shown nationally and internationally in over 200 exhibitions. Venues include Australia, Canada, Columbia, Italy, the United Kingdom, the United States, Korea, Malaysia, Mexico, and New Zealand. She has work in the University of Southern Indiana permanent collection, the University of North Carolina Pembroke Livermore Library Print Archive, the National Gallery of Australia permanent archives, and private collections.
Contact:
Jules Floss
Professor of Fine Arts
Arizona Western College
Julie.Floss@azwestern.edu
(928) 314-9434