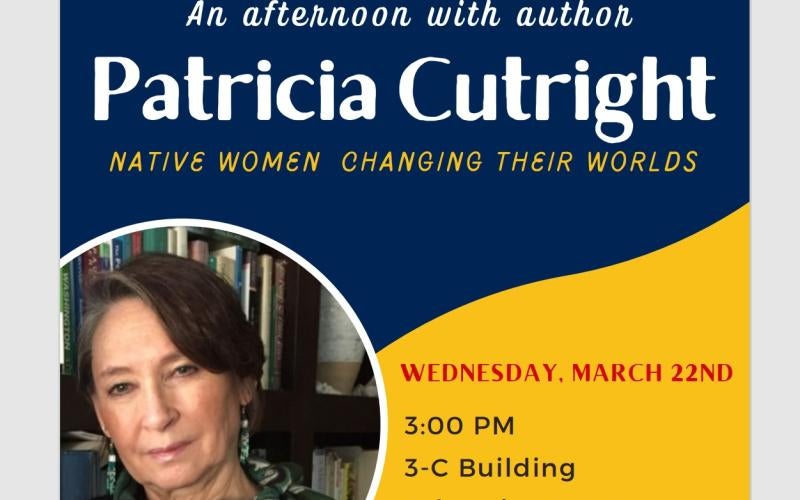 Patricia Cutright to visit AWC for book discussion event
March 14, 2023
---
Virtual participation option offered via Zoom
Yuma, AZ (March 14, 2023) – The community is invited to Arizona Western College for a book discussion event with author Patricia Cutright.

Cutright will be discussing her young adult book, "Native Women Changing Their Worlds," which examines the lives of 12 Native American and First Nations activists and changemakers. Each chapter focuses on a different woman's contribution to better their world, showcasing themes of perseverance, determination, and education. Cutright does not shy away from the traumas endured by many of her subjects and frequently references the epidemic of murdered and missing Indigenous women.

Cutright, who is Lakota and a member of the Cheyenne River Sioux Tribe of South Dakota, has made her writing debut with this book to engage young adults in the history of Native women and the obstacles they have overcome to become strong community leaders. The book features women from Debra Haaland (Laguna), the first Native American to serve as the United States Secretary of the Interior to the late Mary Golda Ross (Cherokee), an elite aeronautical engineer at Lockheed.

The collection of biographies has been reviewed as an inspiring text and a valuable contribution to Indigenous history. It was named one of the best books of 2021 by American Indians in Children's Literature.

The event, which is free and open to the public, will be held Wednesday, March 22, from 3:00 – 4:30 p.m. at the Schoening Conference Center in the 3C Building at the AWC Yuma Campus, 2020 S. Ave. 8E. There will also be an opportunity for the community to participate via Zoom: Meeting ID: 838 9486 9382, Password: 934852.
A Q&A and book signing will follow the author's presentation. Books will be available for purchase at the event. In addition, print and electronic copies are available on loan at the Yuma County Library and the AWC/NAU-Yuma Academic Library.
Book content includes the biographies of 12 Native women:
• Ashley Callingbull Burnham (Enoch Cree Nation)
• Henrietta Mann, PhD (Southern Cheyenne)
• Ruth Anna Buffalo (Mandan, Hidatsa and Arikara Nation)
• Elouise Pepion Cobell (Blackfeet)
• Loriene Roy, PhD (Anishinabe, White Earth Reservation)
• Sharice Davids (Ho-Chunk Nation)
• Roberta Jamieson (Kanyen'kehà:ka, Six Nations of the Grand River Territory)
• Deb Haaland (Pueblo of Laguna)
• Elsie Marie Knott (Mississauga Ojibwe)
• Mary Golda Ross (Cherokee)
• Heather Dawn Thompson (Lakota, Cheyenne River Sioux)
• Emily Washines (Yakama Nation with Cree and Skokomish lineage)
Contact:
Aimee Quinn
Assistant Librarian
AWC/NAU-Yuma Academic Library
Aimee.Quinn@nau.edu
(928) 317-6435