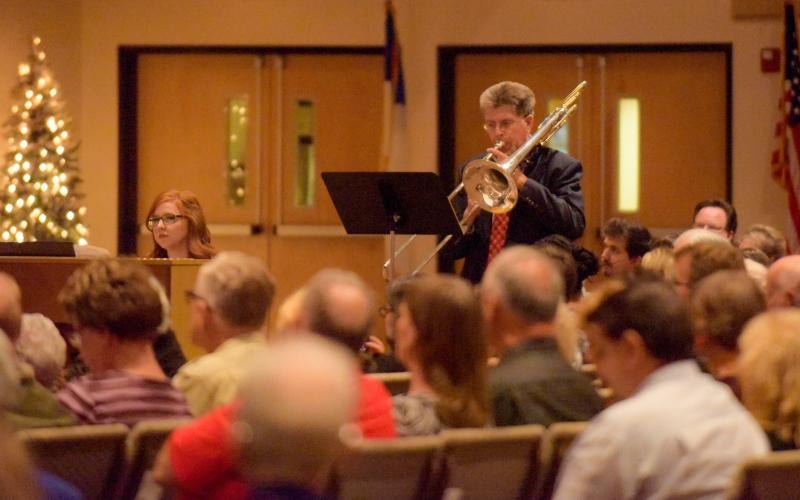 Music Department presents collaborative, end-of-semester Christmas Gala
December 2, 2022
---
Concert proceeds to benefit music scholarship funds
Yuma, AZ (December 2, 2022) – The Arizona Western College Music Department will present its annual Christmas Gala at 6 p.m. on Sunday, Dec. 11.
The joint concert will feature the AWC orchestra, band, string ensemble, choirs, and piano faculty. Audiences will be in for an enjoyable evening as students will be performing a culmination of music they've been working on for the Christmas Gala.
The band will play three Christmas-themed pieces, concluding with "Sleigh Ride." The Chamber Singers will also present three pieces of Christmas music, closing with "A Canticle of Carols," in collaboration with the Yuma Chorale and a brass sextet. Professor of Piano Rodney Abriol will also perform two of his Christmas carol arrangements.
The orchestra will be directed by Janet Jones, the band by Shawn Pollard, the string ensemble by Margaret Fenske, the Chamber Singers by Dr. Charles Smalley, and the Yuma Chorale by Laura Surguine.
The Christmas Gala will be held at First Christian Church, 3261 S. Avenue 6E. Admission is $15 for the general public, $10 for senior citizens and servicemen, and $5 for students. Children 12 and under can attend for free. Proceeds will benefit AWC music scholarship funds.
Contact:
Shawn Pollard
Professor of Instrumental Music
Arizona Western College
Louis.Pollard@azwestern.edu
(928) 344-7573
Contact:
Dr. Charles Smalley
Professor of Fine Arts
Arizona Western College
Charles.Smalley@azwestern.edu
(928) 344-7573