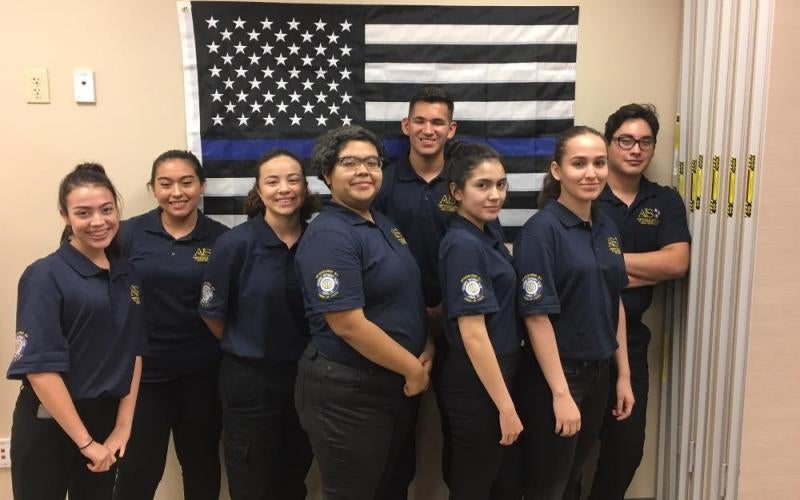 High school students graduate from Law Enforcement ICE Summer Program at AWC
June 25, 2018
---
Yuma, AZ (June 25, 2018) – High school students recently graduated from a week-long Law Enforcement Industrial Cooperative Education (ICE) Student Summer Program hosted by Arizona Western College. The graduation took place on Saturday, June 23, in the Schoening Conference Center at the AWC Yuma Campus.
The annual ICE program provides rigorous and relevant content for Yuma Union High School District (YUHSD) Career and Technical Education (CTE) students. Instructors from local law enforcement agencies teach students about various topics including ethics, criminal law, constitutional law, and community policing.
In addition to earning high school CTE credit for completing the program, students also earn three college credits toward the AJS 230 Police Function course at AWC.
The program is made possible thanks to a partnership between the YUHSD ICE program, AWC Administration of Justice Studies (AJS), the AJS Advisory Board, and the Sunrise Optimist Club of Yuma. The groups are dedicated to offering current CTE content and academic skills for students.
For more information contact AWC Professor of Administration of Justice and Homeland Security Bertha Avila at bertha.avila@azwestern.edu or (928) 344-7664.
Contact:
Bertha Avila
Professor of Administration of Justice and Homeland Security
Arizona Western College
bertha.avila@azwestern.edu
(928) 344-7664