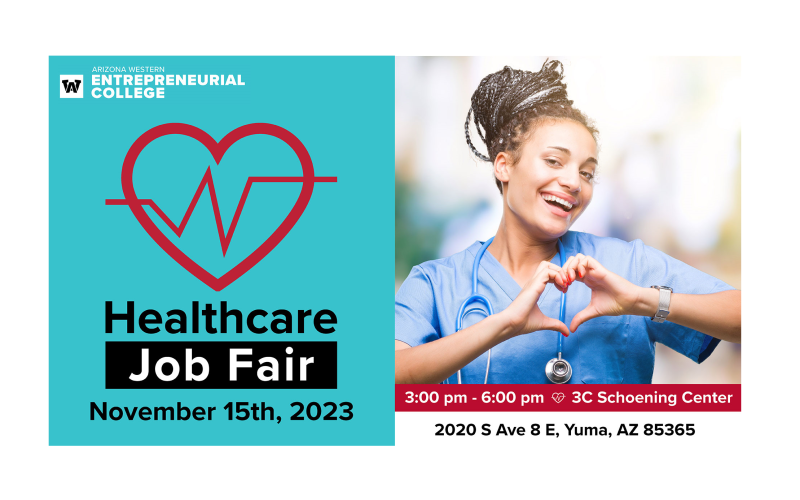 Healthcare Job Fair to be held Nov. 15
November 9, 2023
---
Event is open to students, alumni, and general public
Yuma, AZ (November 9, 2023) – Those aspiring to pursue a healthcare career will have an upcoming opportunity to explore what opportunities are available.
Arizona Western College Career and Advisement Services, Transfer Services, Nursing, Allied Health, and Radiologic Technology Programs have collaborated to offer a Healthcare Job Fair from 3:00-6:00pm on Wednesday, Nov. 15, in the 3C Schoening Center at the AWC Yuma Campus, 2020 S. Ave. 8E. A campus map can be found here.
This event will provide students, alumni, and the general public interested in healthcare careers including Nursing, Certified Nursing Assistant, Medical Assistant, Radiologic Technology, Allied Health, and other related fields with career information, part-time or full-time employment openings, internships, and volunteer opportunities.
AWC will showcase the certificates and associate degrees that are available, and university representatives within relevant fields will also provide students with transfer information and pathways to attain their baccalaureate degree.
"Arizona Western College is excited to be hosting the Healthcare Job Fair for a second year with this year's fair being open to our community to attend," said Dr. Joann Chang, AWC Dean of Healthcare Programs. "As the college of the community, we recognize the importance of connecting our community to the healthcare jobs that are available and the educational programs that can support these positions. AWC is making strides to provide the training, certificates, and degrees that can launch a healthcare career, but also expanding our partnerships with our university partners to provide a pathway to a baccalaureate degree locally in Yuma. AWC is here to educate, train, and build our Yuma healthcare workforce."
Cinthia Alvarez, AWC Director of Nursing, added, "The healthcare job fair emerged to provide an opportunity for healthcare students to explore employment options in the area of healthcare they are pursuing. We hosted the first healthcare job fair last year, and students were so excited to learn about the different opportunities within our community. Our community needs more healthcare workers in the workforce. This job fair will help students in healthcare programs and community members network with local agencies so they can select the best pathway in healthcare."

Participating Employers, Agencies, and Organizations:
Aerocare Medical Transport
ARIZONA@WORK Yuma County
Community Health Associates
Haven Health Sandpointe
Honor Health
Honor Health John C Lincoln Medical Center
LaSalle Corrections/San Luis Regional Detention and Support Center/Correct Med
Life Care Center of Yuma
NAHN, Angeles del Desierto Chapter
Ridgeview Transitional Rehab
SouthWestern Palliative Care and Hospice
Summit Healthcare
United Cerebral Palsy of Southern Arizona
US Government - Colorado River Service Unit (Parker)
Yuma County Public Health Services District
Yuma County Sheriff's Office
Yuma Nursing Center
Yuma Regional Medical Center
Yuma Regional Medical Center Volunteer Services
Yuma Rehab Hospital
Participating Universities:
ASU Local Yuma
Chamberlain University
Grand Canyon University
Northern Arizona University
The University of Arizona Yuma
University Of Arizona Health Sciences Office of Equity Diversity & Inclusion
Participating AWC Programs:
AZ Quest Dislocated Worker Grant
Career and Advisement Services
Allied Health Programs
Radiology Program
Transfer Services
Contact:
Dr. Joann Chang
Dean of Healthcare Programs
Arizona Western College
Joann.Chang@azwestern.edu
928-344-7665
Contact:
Cinthia Alvarez
Director of Nursing
Arizona Western College
Cinthia.Alvarez@azwestern.edu
928-317-6038