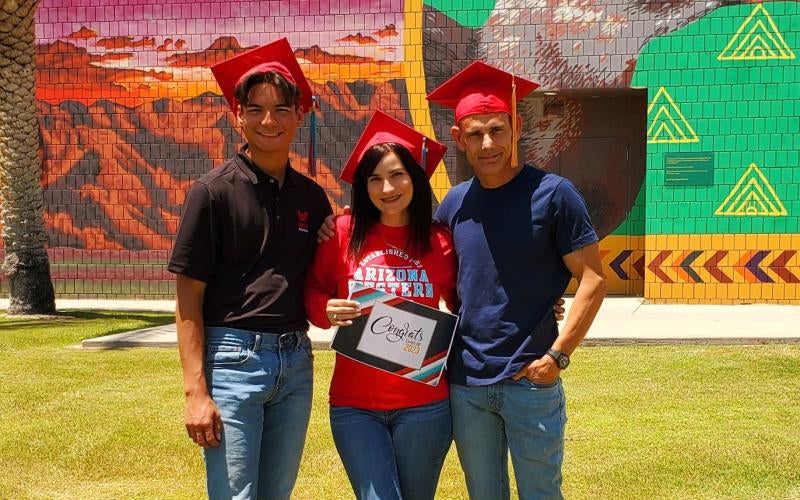 Family graduates together from Arizona Western College
May 17, 2023
---
Yuma, AZ (May 17, 2023) – Christine Clark Reese, 36, didn't get to walk the line at her high school graduation because she was about to give birth to her son.
Now, almost 18 years later, she will be receiving an associate degree from Arizona Western College with her son by her side. In addition to earning his high school diploma from Gila Ridge High School, Jakkson Fisher Reese, 17, will also be graduating with two associate degrees from AWC.
To top it all off, Eric Reese, 48, will be joining his wife and son on the field at graduation as he receives his associate degree too.
"It was definitely not planned for all of us to be here together, but I will say that it's really truly beautiful," said Christine. "For all of us to get here at the same time, unplanned, the universe clearly had its own plans for us to be able to sit next to each other at graduation. It was meant to be."
Jane Peabody, AWC Coordinator of Physical and Wellness Education, will have the special privilege of sitting in the front row as her daughter, grandson, and son-in-law receive their degrees.
"She is pretty jazzed. She's having a proud mom and grandma moment, and I feel like she should. She's like our ultimate fangirl," Christine said.
Christine's grandmother, Dr. Marge Barcomb, will also be sitting front row with the rest of the family. As someone who spent decades as a member of the AWC Governing Board and had the Agriculture and Science (AS) Complex at the Yuma Campus named in her honor, Dr. Barcomb is thrilled to see this event take place.
The road to her family's graduation has not been without its challenges, Christine shared. It's nothing short of a miracle that they will be celebrating this joyous occasion together.
"It's been a really rocky road for us. We've been through a lot," she said. "My husband Eric is a veteran of three foreign wars, and after getting out of the military, he was in an accident two years ago where he was in the hospital in a coma with a traumatic brain injury. The following year he was in a freak accident at home and cut his thumb off. Our youngest son had pediatric cancer. It's been a really intense journey."
And that's not to mention all the normal stresses of life that Christine and Eric faced, balancing the responsibilities that come along with going to school, working, and taking care of six children.
After being a personal trainer for years, Christine recently decided to go back to school to pursue a new career path as a physical therapist. Along with running a personal training studio with her husband, she began working as a physical therapy aide and taking classes when her schedule would allow.
Eric took on the full-time parent role of dropping off and picking up their children from school and making sure the meals were cooked while also taking classes. Additionally, he worked as an embedded physics tutor at the AWC Student Success Center and was recently honored as the 2022-2023 AWC Student Employee of the Year.
As for Jakkson, in addition to earning his Certified Nursing Assistant (CNA) license while still in high school and working at Waylon's Water World, he also taught lifeguard certification courses at AWC.
"We're on campus together all the time; it feels like we live here. Last semester I took night classes, and this semester Eric is taking night classes four nights of the week. So, we're at the campus Starbucks often, and we eat at the cafeteria together too," she said.
"Eric and Jakkson take a lot of the same classes. To see my husband, the love of my life, and then my son, the other love of my life, sitting there talking about what they grew in microbiology lab and seeing that bonding experience they're having makes my heart fuller than I could ever explain. There are not a lot of words to convey how I'm feeling, but there are a lot of tears. There will be no fake eyelashes at graduation."
On Friday, Christine will graduate with her Associate in Applied Science degree in Medical Assisting; Eric will earn his Associate in Science degree in Biology; and Jakkson will receive his Associate in Arts and Associate in General Studies degrees.
And this isn't the end of their educational journey. They all have plans to pursue additional higher education degrees at NAU-Yuma. Christine plans to earn a Bachelor of Health Sciences degree in Medical Assisting; Eric is aiming for a Bachelor of Science degree in Environmental Sciences; and Jakkson is hoping to receive a Bachelor of Science degree in Nursing.
"We're really excited. We all thought this would be the only chance we would have to graduate together, but honestly, we'll probably end up doing it again at NAU."
Contact:
Jane Peabody
Coordinator of Physical and Wellness Education
Arizona Western College
Jane.Peabody@azwestern.edu
(928)344-7540