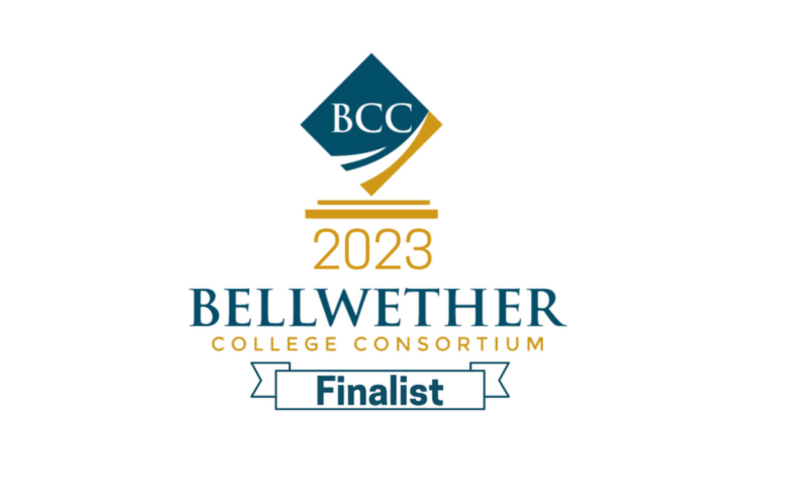 AWC named Bellwether Finalist for advances in workforce development
November 21, 2022
---
Administration to showcase college programs during national assembly
Yuma, AZ (November 21, 2022) – Arizona Western College has recently been honored as a 2023 Bellwether Finalist for its workforce development program growth.

AWC leadership will present along with nine other finalists in the Workforce Development category during the 29th Annual Community College Futures Assembly held Feb. 26-28 in San Antonio, Texas. During the competition showcase, colleges from around the nation will be vying to win the prestigious Bellwether Award, which identifies and honors outstanding and innovative community college programs in three award categories. The award has been compared to football's Heisman Award because it is competitively judged and awarded by respected peers in leadership positions. Recipients of the Bellwether Award have said that it has been a springboard for other types of recognition and/or funding.

"The significance of the Bellwether Award is that the winning programs are replicable, scalable, equity-focused, and
demonstrate evidence-based success," said Rose Martinez, Ph.D., Director for the Bellwether College Consortium. "With the complexity of issues facing our community colleges today, these finalists are extraordinary examples of colleges providing scalable solutions to tough challenges."

AWC was recognized as a Bellwether Finalist for being the first college in the country to complete the Transatlantic Business and Investment Council (TBIC) College Certification Program. The TBIC College Certification Program is designed to assess and certify community colleges in their ability to provide top-quality technical training that meets the needs of today's economy. The program includes an assessment of several relevant parameters, such as the level of cooperation between the college and local industry representatives as well as the technical education and practical training offered to students.

AWC programs certified by TBIC include: Manufacturing, Machinist, Electrical, and Welding. Faculty and students in these fields will have an opportunity to participate in a TBIC networking trip to Europe to visit relevant educational and governmental institutions to exchange ideas and build institutional ties.

"The TBIC College Certification program has provided AWC the opportunity to build international relationships while providing an educated workforce capable of meeting industry needs across the world. Further, it has strengthened our region's position as a viable economic partner for global investment. Our students and faculty are excited for this significant upgrade in academic standards," said Reetika Dhawan, AWC Vice President for Workforce Development and Career & Technical Education.

"Community colleges play an important role in regional workforce development efforts by providing affordable and accessible technical education and training, which can help close the skills gap and provide a pipeline of talent for both existing and prospective employers."

The AWC Advanced Manufacturing Center in Wellton has over 200 students enrolled in seven stackable certificate programs such as Basic Power Generation, Welding for Manufacturing, Hydraulic and Pneumatic systems, and Materials Processes. In addition to growing the program enrollment by a factor of 10, the faculty and staff have added grant-funded partnerships with nearby high school students to explore digital printing with recycled materials, and summer camps to get students excited about the available programs.
More information about the Bellwether Awards:
Established in 1995, the Bellwether Awards are a long-standing, respected honor solely awarded to innovative community colleges. The rigorous award competition is an integral part of the Community College Futures Assembly where 30 Bellwether Finalists are invited to present their program in a final round of competition among selected peer institutions. The Assembly is sponsored by the Alamo Colleges District and focuses on cutting-edge, trendsetting programs that are worthy of scaling and replication given their evidence-based outcomes and indicators. The Bellwether Awards are given annually in three categories to community colleges with outstanding and innovative programs or practices. Award categories are Instructional Programs and Services, Planning, Governance and Finance, and Workforce Development.

The Bellwether College Consortium issued a call for nominations in the summer of 2022. Finalists representing 14 states and 24 community colleges were selected to compete from a large pool of submissions. College teams will conduct presentations to a jury of anonymous judges and fellow community college practitioners and CEOs and share how they significantly addressed a critical issue affecting community colleges. Event co-sponsors include the National Council of Instructional Administrators, the National Council for State Directors of Community Colleges, and the National Council for Continuing Education and Training.

The Community College Futures Assembly convenes annually as an independent national forum for innovators to work as a think tank. It identifies successful responses to critical issues facing the future of community colleges and hosts its national award competition annually. Visit www.bellwethercollegeconsortium.com for more information about the Bellwether College Consortium.
Contact:
Reetika Dhawan
Vice President for Workforce Development
and Career & Technical Education
Arizona Western College
Reetika.Dhawan@azwestern.edu
(928) 344-7567
Contact:
Karyn Van Why
Executive Administrative Assistant to the Vice President of Workforce Development and Career & Technical Education
Arizona Western College
Karyn.VanWhy@azwestern.edu
(928) 317-6339