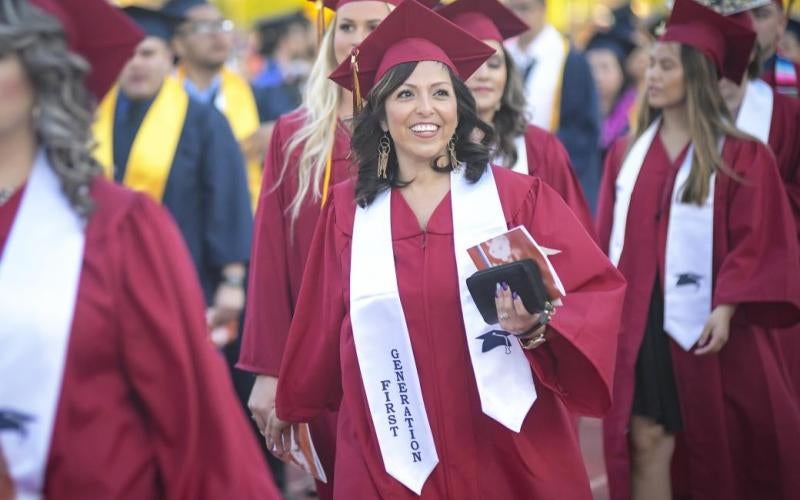 AWC to hold commencement ceremony on May 13
May 5, 2022
---
Yuma, AZ (May 5, 2022) – Arizona Western College, Northern Arizona University-Yuma Branch Campus, University of Arizona-Yuma Academic Center, and Arizona State University ASU @ Yuma programs announce 2022 Commencement. The ceremony will take place at 7 p.m. on Friday, May 13, at Veterans Memorial Stadium, 7150 E. 24th Street, next to Gila Ridge High School.
AWC sent out 1,092 invitations to participate in graduation. These students are candidates for an AA, AAS, ABUS, AGS, or AS degree. Some candidates have applied for more than one degree. There are also 580 candidates to receive an occupational certificate who will be recognized in the commencement program.
"Congratulations to all of our graduates," said Ana English, Associate Dean of Enrollment Services. "Your accomplishments are even more impressive as you carried them out during a worldwide pandemic. Now, take that same determination and apply it to the next chapter in your life."
The commencement ceremony will be aired live on Channel 74 and online at azwestern.edu/live and facebook.com/ArizonaWesternCollege (no account needed to view), so extended family and community members can tune in and celebrate as well.
Rehearsal will take place at 8 a.m. on May 13, at Veterans Memorial Stadium with a Grab-and-Go breakfast hosted by Student Leadership and Enrollment Services.
Luis Adrian Vizcarra has been selected as this year's AWC Student Commencement Speaker.  More information on Luis is included below, along with details on student speakers from local university partners sharing in the commencement activities. 
For information and updates regarding this year's commencement, visit azwestern.edu/commencement.
Luis Adrian Vizcarra – AWC Speaker
Luis will be graduating with an Associate in Arts degree along with a certification in Cloud Foundations. He will continue his educational journey at the University of Arizona with a focus in Agricultural Systems Management. Luis graduated from Kofa High School and was the graduation speaker. He is a first-generation student who is setting an example of what educational opportunities are possible for his family and the community.
Luis has participated in many clubs and organizations such as the Business Club, Student Government Association, Young Farmers and Ranchers, a founding member of Salsa Toro's, Innovation Fund Committee, Assessment Committee, the Classified Employee Association, and many others. Luis began his journey as a student worker and discovered a passion for helping others. Currently, he is a full-time employee at AWC's Welcome Center and received recognition by obtaining the "Red Plate." Luis received six nominations from employees who all commented on his genuine smile and passion for service to students. In addition, his approachability welcomes future students and community members to the college.
Bryanna Martinez – NAU Speaker
Bryanna Martinez was born and raised in Columbus, Nebraska. She moved to Yuma, Arizona, in 2017 and attended Arizona Western College, where she earned an Associate of Arts degree in General Studies and another in Social Work with a U.S.-Mexico Border Emphasis. She then transferred to Northern Arizona University-Yuma, where she is graduating with a Bachelor of Social Work degree. At NAU-Yuma, Bryanna was involved in community forums, one of which was a presentation on teen dating violence presented to the Yuma Union High School District. She attended the 2022 Western Social Science Association Conference in Denver, Colorado, where she presented alongside professors and colleagues about improving community wellness through police and social work partnerships. She also co-presented about a Collaborative Online International Learning program that developed through a partnership between NAU-Yuma and Universidad Autónoma de Baja California in Mexicali, Baja California, Mexico. Bryanna is involved in her community and has volunteered her time with Hospice Compassus, Veteran Stand Down, and Walk to End Alzheimer's. In the future, Bryanna intends to pursue her Master of Social Work degree through ASU Yuma.
Bridget DeCorse-Hall – ASU Speaker
Bridget DeCorse-Hall is a first-generation student and mother of two children who has lived in Yuma, Arizona, for most of her life. She has immigrant family roots and proudly represents the Hispanic culture. Bridget comes from a large family and is the oldest of eight children. She hopes her journey can serve as an example to her siblings and children of the importance of working hard to achieve your goals. Bridget is grateful that she has been able to complete her educational journey here in Yuma. She obtained an Associate of Arts Degree in Psychology/Sociology from Arizona Western College in 2019, a Bachelor of Arts Degree in Social Work with emphasis on the U.S Mexico Border from Northern Arizona University in 2021, and is now graduating with her Master's Degree in Social Work from Arizona State University (ASU). Bridget explained she has gained so much in her educational journey including confidence in herself. She stated, "I would never have imagined standing and speaking in front of so many people, but I feel like I can now." Bridget has been a leader in the classroom and is motivated by helping others. Her commitment to the community is demonstrated through her academic background, volunteer work, and internship by empowering children and families. Bridget and her social work colleagues thoroughly researched the social determinants of health and how they impact patients' quality of life. In Yuma Regional Medical Center's Pediatric Social Work Presentation held in March 2022, she was a key speaker, fostering awareness and advocacy for children's special and medical needs to increase social work positions in outpatient settings. Lastly, she participated in the COVID-19 Testing and Vaccine Outreach Research event held in January 2022. This was a collaboration between ASU, Campesino Sin Fronteras, and the Yuma Health Department and they assisted 1,000 migrant workers with health screenings and registration for the vaccine. Bridget has strong ties to the community and has a true passion for social work. Upon graduation, Bridget has obtained a job at Arizona Children's Association as a clinician. She is excited and honored to support children and families in the Yuma community.
Lily McNair – UA Speaker
Lily McNair grew up in Yuma, Arizona, the daughter of Russell and Leah McNair. Lily attended Arizona Western College, where she earned an Associate of Science, Honors Liberal Arts. Following graduation from high school and AWC, Lily attended the University of Arizona-Yuma as a nutritional sciences student with a dietetics emphasis and a minor in biochemistry. In addition to being a full-time nutrition student, Lily worked at AWC as a Supplemental Instruction Leader for Chemistry courses and interned at the Regional Center for Border Health (RCBH) where she developed a professional interest in Women's Health and Culinary Medicine. She was subsequently hired as part of the RCBH Health Education department. Lily also worked as an undergraduate preceptor in the School of Nutritional Sciences and Wellness. In addition to her academic work, Lily served as Arizona Academy of Nutrition and Dietetics (AZAND) student representative and conference committee member, president-elect for the Southwest District of AZAND, and co-student representative for the Nutrition Education for the Public Dietetic Practice Group. Through these opportunities, she was also able to work toward fostering a sustainable, supportive community for nutrition students. She has also volunteered at the Yuma Community Food Bank and served as a church cellist. Lily is graduating from the University of Arizona as a Robie Gold Medal Award recipient and the Outstanding Senior for the University of Arizona-Yuma.
Upon graduation, Lily will complete a Professional Science Master's in Applied Nutrition with a dietetics emphasis at the University of Arizona. This will allow her to become a registered dietitian nutritionist in Yuma. Her personal and professional goal is to care for the underserved, support healthy living in clinical practice, and increase the Yuma border region's health literacy rate through health education.
Contact:
Elena Valenzuela
Graduation Specialist
Arizona Western College
graduation@azwestern.edu
(928) 344-7613