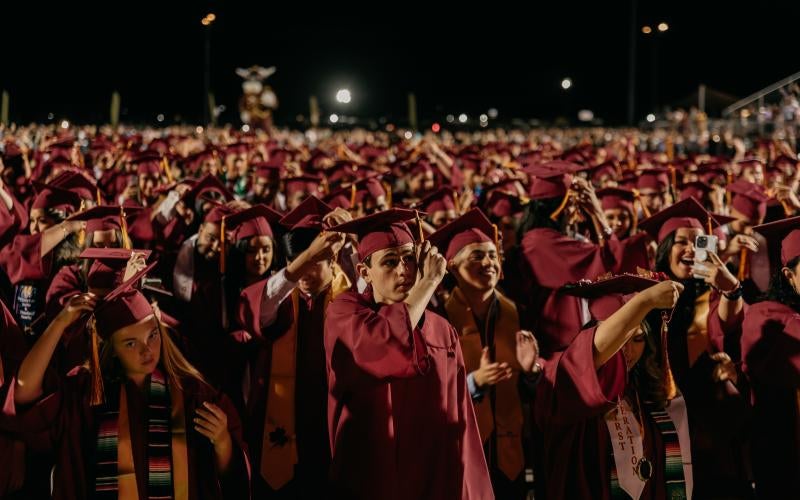 AWC celebrating commencement May 19
May 15, 2023
---
Yuma, AZ (May 15, 2023) – Arizona Western College, Northern Arizona University-Yuma Branch Campus, University of Arizona-Yuma Academic Center, and Arizona State University ASU@Yuma programs announce the 2023 Commencement. The ceremony will take place at 7 p.m. on Friday, May 19, at Veterans Memorial Stadium, 7150 E. 24th Street, next to Gila Ridge High School.
AWC has issued over 2,000 degrees and occupational certificates, including AGEC (Arizona General Education Curriculum) certificates, for this academic year. Graduates are candidates for an AA, AAS, ABUS, AGS, or AS degree. Some candidates have applied for more than one degree. There are also candidates to receive an occupational certificate who will be recognized during the commencement program.
"Congratulations graduates! You have achieved one of the most significant goals in your life. We are thrilled to be a part of your celebration and applaud your achievements. We wish you the best and thank you for letting us be a part of your educational journey," said Ana English, Associate Dean of Enrollment Services.
The commencement ceremony will be aired live on cable channel 74, via AWC's Facebook (no account needed to view), and at azwestern.edu/live.
Rehearsal will take place at 8 a.m. on Friday, May 19, at Veterans Memorial Stadium. Graduates are expected to arrive by 6:00 p.m. at Gila Ridge's Hawk Gym to meet for graduate line-up.
The commencement ceremony is open to the public.
Seanna Engel has been selected as this year's AWC Student Commencement Speaker. More information about Seanna is included below.
For information and updates regarding this year's commencement, visit azwestern.edu/commencement.
Seanna Jo Engel – AWC Speaker
Seanna will be graduating with an Associate's Degree in Science along with an AJEC-S Certification. She will continue her educational journey at the University of Arizona for a degree in Conservation Biology before transferring to the Scripps Institution of Oceanography for a Master's and Doctorate in Marine Biology. Seanna graduated from Gila Ridge High School with honors and is a dedicated student and hard worker who enjoys science as much as art. She wants to spend her life making a difference for the world's marine wildlife.
While at AWC, Seanna participated in many clubs and organizations such as The AWC Musical Matadors and International Club while interning at Vida Wildlife Rehabilitation and Education Center and competing in several art contests in Yuma.
Seanna is most excited to be the 2023 Student Speaker because it is such an incredible honor to address her fellow students who have all worked so hard, and to show her appreciation to the incredible instructors and staff at AWC.
Contact:
Elena Valenzuela
Graduation Specialist
Arizona Western College
graduation@azwestern.edu
(928) 344-7613