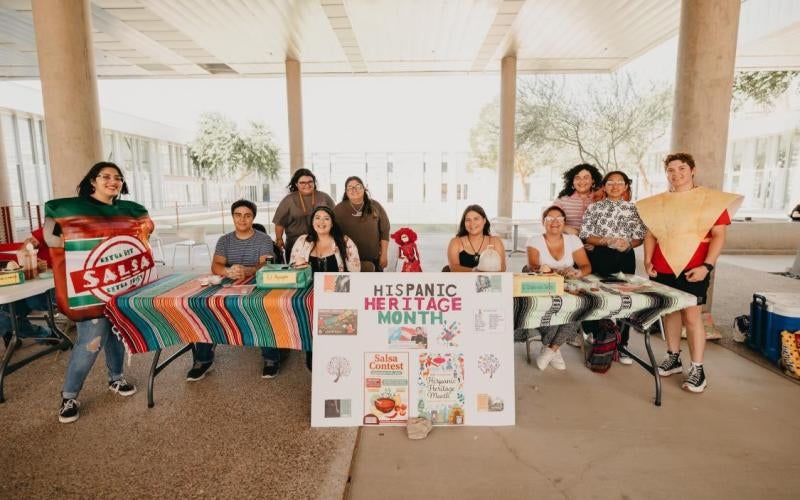 AWC celebrates Hispanic Heritage Month
September 20, 2022
---
Yuma, AZ (September 20, 2022) – Arizona Western College kicked off Hispanic Heritage Month at its San Luis and Somerton locations on Sept. 15, and will be bringing the celebration to the Yuma Campus next.
Upcoming activities for students, staff, and faculty will include:
Pinata Making – Monday, Sept. 26, at the AWC/NAU-Yuma Academic Library from 10 a.m. to 1 p.m.
 
Salsa Contest – Tuesday, Sept. 27, in the 3C Breezeway from 11 a.m. to 2 p.m. Student clubs bring in salsa for the competition. (Photos from this event can be found here.)
 
Chalk Murals – Wednesday, Sept. 28, in the 3C Breezeway from 3 to 5 p.m.
 
Hispanic Heritage Fair – Thursday, Oct. 13, at the Eatery Patio from 11 a.m. to 2 p.m. Food, music, fun, and games.
Shara Skinner, AWC Coordinator of Student Leadership and Activities, shared that there is also an opportunity for students to attend the 8th Annual Origins Art Exhibition entitled "Heritage Dreams" at the San Luis Library, 1075 N. 6th Avenue, until Oct. 15. Library hours can be found here.
The theme for the art exhibit focuses on recognizing how our roots influence our future. "Origins" is an annual non-juried event dedicated to promoting visual artists from both sides of the border. The goal is to highlight the vitality and breadth of artistic practice in the region by providing artists a space to show their work and share it with the public. This exhibition builds bridges between artists and the community through an enjoyable viewing experience that fosters awareness and appreciation of the arts.
For more information about this month's activities, visit the AWC Events Calendar here. A map of the Yuma Campus can also be found here.
Contact:
Shara Skinner
Coordinator of Student Leadership and Activities
Arizona Western College
Shara.Skinner@azwestern.edu
(928) 344-7581