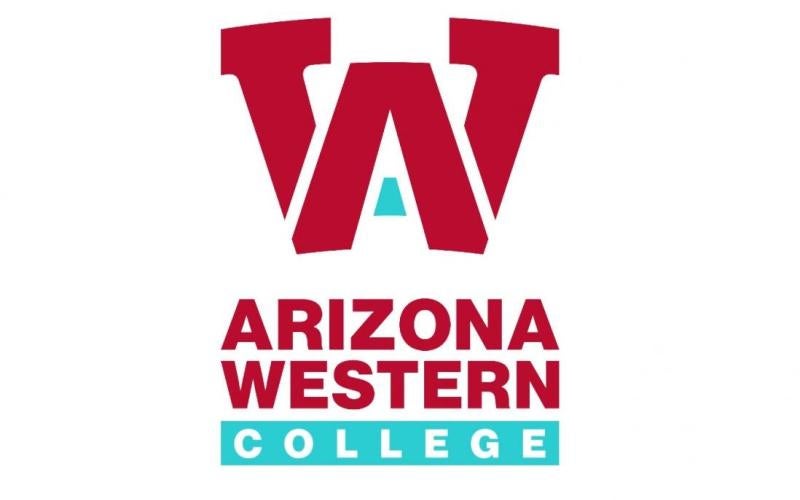 Arizona Western College launches new brand
September 19, 2022
---
Staff, faculty, student leaders get first look at new logos, colors
Yuma, AZ (September 19, 2022) – After nine months of listening, surveying, and designing, the Arizona Western College Marketing & Communications team has officially launched the college's new brand.
Arizona Western College's new logos and colors were unveiled to staff, faculty, and a select group of student leaders during a rollout event at the Yuma Campus on Monday, September 19. Photos from the rollout event can be found here.
The new institutional logo features brand-specific colors of Matador Red and Skystone (Turquoise). As a community college that has strong partnerships with Arizona's three state universities, the logo is iconic and stands up strongly amongst them. The new athletics logo was created with a design unique to athletics and utilizes AWC's new official colors to complement the new institutional logo.
"As Arizona Western College evolves, offers new programs and services, enters into new partnerships, and redefines its mission and values, it is important that our brand evolves too," said Mandy Heil, AWC Associate Dean of Marketing & Communications. "It is also best practice to rebrand every 8-10 years. We were well beyond that mark and definitely past due for a brand refresh."
Before the creative team went to work on conceptualizing new logo ideas, extensive feedback regarding AWC's previous brand was gathered from the individuals who know the college best – students, staff, faculty, alumni, partners, and community members. Based on the responses and suggestions received by the AWC Branding Advisory Committee, initial concepts were created and shared before second and third iterations were developed and refined. The final product is the result of 258 surveys, 14 focus groups, two districtwide town halls, and a consulting session with The Granger Network.
In the beginning stages of this process, the creative team realized a need for continuous input from key campus stakeholders and established the Branding Advisory Committee which included representatives from various areas of the college including AWC students. This group was integral in helping the team make final decisions regarding the institutional logo and rollout to campus.
Creative Director, Leah McKeogh shares, "Seeing my team of designers work together to share concepts of potential logo designs really showed me how much talent we've got on our team. As the Creative Director, rebranding and logo development is such an exciting part of the job. It has been an honor to see our logo concept come to life and to see the marketing team engage with it. We're just so excited to finally roll it out and hope people love it."
Heil adds, "It has been a true honor to watch this creative team come together for this impactful work. Not only is the final result amazing, but we arrived here through tough decision-making, collaborative concept development, and a shared vision for what could be at AWC. I am beyond proud."
During the rebranding kickoff event, attendees learned how to access and use new brand elements to provide a cohesive visual experience moving forward. Participants also had a chance to win branded prizes and everyone walked away with a new branded t-shirt and swag bag. Rollout events for students are also being planned.
For more information, visit azwestern.edu/branding or watch the rebranding video here.
Contact:
Mandy Heil
Associate Dean of Marketing & Communications
Arizona Western College
Mandy.Heil@azwestern.edu
(928) 314-9594