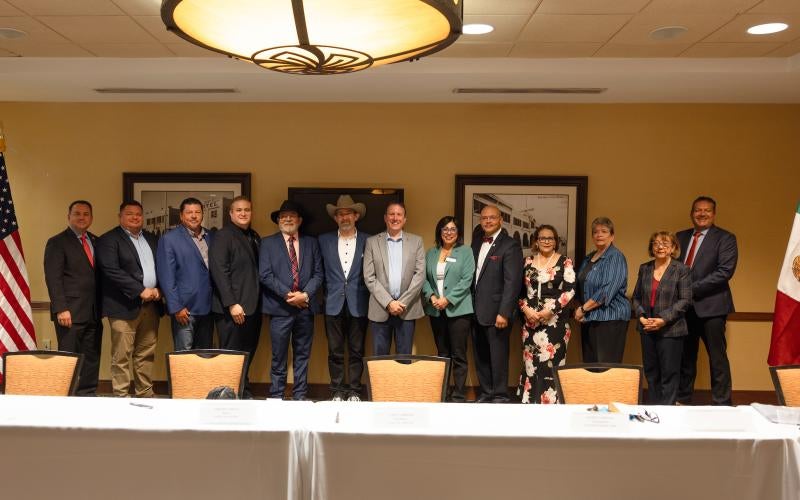 Ceremony celebrates AWC's partnership with Sonora and Arizona universities
November 2, 2023
---
Yuma, AZ (November 2, 2023) – A Memorandum of Understanding signing ceremony was held Tuesday, Oct. 24, to commemorate the unique partnership between education partners Arizona Western College, Sonora State University, and local Arizona Board of Regent University partners from the University of Arizona, Northern Arizona University and Arizona State University, together in a shared gathering with 4FrontED, Elevate Southwest, and community leaders.
With the MOU, these institutions are collectively deepening the friendship ties and improving the level of cooperation and comprehension that unite these participants. It collectively recognizes the mutual interests and a multitude of opportunities for education, workforce development, science and technology, agriculture, agricultural technology, and binational business programs. It also provides the basis for these institutions to offer and develop activities focusing on cooperation and joint programs in these areas.
The MOU establishes a legal framework as a point of reference for participation in cooperative and joint programs for the betterment of communities in the region.
"Arizona Western College is proud to host this ceremonial signing and continue to expand the educational resources to the regional community," said AWC President Dr. Daniel Corr. "This partnership is a testament to the Mission Statement of 'transforming lives through education and partnerships to create thriving communities' and accentuates the power of partnerships between education institutions and agencies. AWC is proud to continue to host all three state universities at the Yuma campus to serve the attainment goals our students and community expect."
AWC is a Hispanic Serving Institution (HSI) with over 70 percent of the student population identifying as Hispanic. HSI is a federal designation by the U.S. Department of Education that identifies colleges and universities with 25 percent or more Hispanic undergraduate student enrollment. There are more than 500 Hispanic-Serving Institutions in the U.S. and more colleges will soon be designated as HSIs, as enrollment of Hispanic students in higher education is expected to exceed 4.4 million students by 2025.
Contact:
Ashley Herrington
Chief of Staff
Arizona Western College
Ashley.Herrington@azwestern.edu
928-344-7501
###
Caption information: (Pictured from left to right) Yuma Mayor Douglas Nicholls; Somerton Mayor Gerardo Anaya; Yuma County Board of Supervisors Chairman Martin Porchas; San Luis Vice Mayor Luis Cabrera; Sonora State University President Armando Moreno Soto; Assistant Vice Provost for Academic Alliances at Arizona State University Rasmus Lynnerup; Arizona Western College President Dr. Daniel Corr; Vice Provost for Academic and Workforce Alliances at Northern Arizona University Yvonne M. Luna; Vice Provost for Online, Distance, and Continuing Education at University of Arizona Craig Wilson; Wellton Vice Mayor Cecilia McCollough; Cocopah Indian Tribe Chairwoman Sherry Cordova; Mexican Consulate in Yuma Consul Dulce Maria Valle Alvarez; and Elevate Southwest President & CEO Jerry Cabrera.