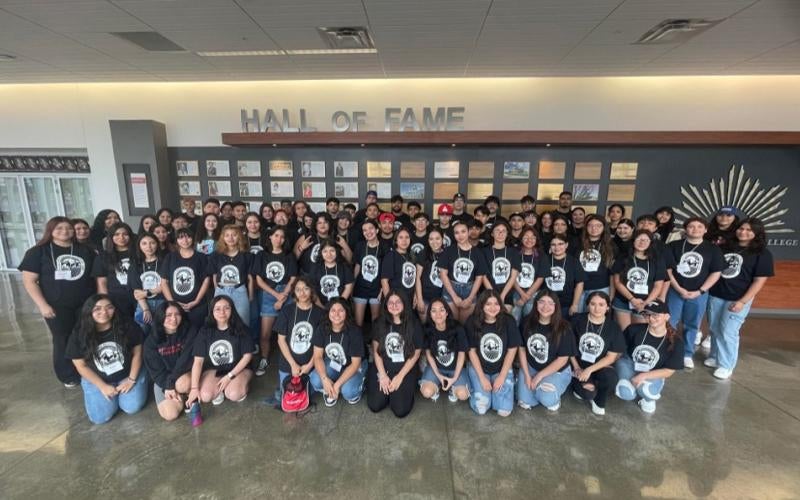 Burton Family Foundation donates $565K to AWC Foundation
November 13, 2023
---
Funds to be earmarked for CAMP, IG2C, IME Becas, South Yuma County Math and English programs
Yuma, AZ (November 13, 2023) – The Burton Family Foundation recently donated $565,000 to benefit first generation and early college programs at Arizona Western College.
Led by long-time Arizona philanthropists Christy and Daryl Burton, the Burton Family Foundation is known for investing in STEM programs for secondary and post-secondary students. This includes funding college scholarships, undergraduate research, high school robotics clubs, and sponsorship of the Science News Learning program for 100 Arizona schools.
"We are grateful to the Burton Family Foundation for recognizing AWC's longstanding commitment to first generation college students. The work our faculty and staff are doing in the vibrant border communities we serve is firmly focused on removing barriers to education, on helping students reach their dreams, and eliminating poverty, one student at a time," said Lorraine Stofft, AWC Vice President for Advancement and Executive Director for the AWC Foundation.
At AWC, this historic donation will be disbursed by the AWC Foundation over the next five years to provide additional funding for initiatives including:
• College Assistance Migrant Program (CAMP)
• I'm Going to College (IG2C)
• IME (Institute of Mexicans Abroad) Becas (Scholarships)
• South Yuma County Math and English Project
CAMP
The College Assistance Migrant Program (CAMP) is a federally funded initiative designed to meet the needs of students with migrant or seasonal farm-working backgrounds. CAMP offers valuable information on pre-college transitions and support services to aid the development of skills necessary to succeed in the first year of higher education. Services include academic counseling, tutoring, skills workshops, health referrals, financial aid stipends, and a residential program. CAMP collaborates with AWC faculty, student services, outreach programs, and community-based agencies to improve educational and career opportunities for all CAMP students. Last fall, over 100 AWC students were working to transform their lives through the CAMP Program.
I'm Going to College
For over a decade, AWC has invited fifth-graders to become college students for a day through the I'm Going to College (IG2C) Program. Faculty members from AWC and partner state universities volunteer to teach the elementary students 25-minute lessons on their areas of expertise, giving students a first-hand look into a college classroom. Students also have the opportunity to enjoy lunch with college students and culminate the experience with an achievement ceremony surrounded by AWC faculty, staff, and students. AWC began IG2C in 2010 as a way to inspire young students to consider higher education and to create a college-going culture. Since its inception, over 2,800 students from Yuma and La Paz counties have participated in the program.
IME Becas
IME (Institute of Mexicans Abroad) Becas (Scholarships) is a program of the Government of Mexico that seeks to expand educational opportunities for Mexican students and those of Mexican origin living in the U.S. The program specifically aims to help low-income students earn their college degree. IME Becas directly benefits students who are currently enrolled in a full-time degree program at AWC. The strong collaboration between the AWC Foundation and the Consulate of Mexico in Yuma was established in 2016. Since that time, the IME Becas program, in conjunction with the AWC Foundation, has awarded $118,000 in scholarships.
South Yuma County Math and English Project
The afterschool program, formerly known as the Gadsden Math Project, provides the opportunity for highly-prepared middle school students to take college-level math (College Algebra and Precalculus) courses taught by AWC professors. The initiative was established by Dr. Raymond Aguilera, Everardo Martinez, Homero Chavez, and Professor Jesus Arrizon through a partnership with the Gadsden Elementary School District in 2007. Over 2,000 students have enrolled in the program since it began 16 years ago. Last year, the initiative expanded to also include English courses with the support of Professor Daniel Herrera. The program has gained national recognition for its innovation and student success. A donation of $75 can pay for a student's 3-credit English class, $100 will cover a 4-credit College Algebra class, and $125 will fund a 5-credit Precalculus class.
In addition to the generous gift from the Burton Family Foundation, the AWC Foundation continues to fundraise to remove barriers to education for students in these four programs and many others. Those interested in donating to programs and scholarships supported by the AWC Foundation can visit foundation.azwestern.edu/give-online or contact the AWC Foundation Office at foundation@azwestern.edu or 928-344-1720.
Contact:
Lorraine Stofft
Vice President for Advancement and Executive Director for the AWC Foundation
Arizona Western College
Lori.Stofft@azwestern.edu
928-314-9595